Read all about Benjamin Moore Aegean Teal (BM 2136-40), plus see 27 real homes that use it!
Neutrals have long reigned supreme when it comes to popular paint colors. And while they're still extremely popular, the trend is starting to move toward using nature-inspired colors.
I'm talking about deeper, bolder, moodier shades that bring the outdoors inside and help you stay grounded and connected with something larger than yourself.
Benjamin Moore's popular Aegean Teal (2136-40) is one prime example of this trend. Inspired by (and named after) the dark teal waters of the Aegean Sea, this deep blue-green shade has enjoyed the spotlight as Benjamin Moore's 2021 Color of the Year.
Adjectives that come to mind when describing this paint color include:
balanced
restorative
reflective
relaxing
It's soothing, which holds strong appeal for many people who want to escape their crazy busy lives to rejuvenate and restore their sense of well-being.
The purpose of my paint color series is to help you find the color you dream of as you envision transforming your space. Each post provides an in-depth look at the color's qualities and highlights some real homes and creative ways people use it.
Aegean Teal has many beautiful qualities that make it an ideal choice for some, but it's definitely not a good fit for everyone. Let's examine BM Aegean Teal more closely and see if it might be what you're looking for in your home!
FAQs about Aegean Teal

Is Benjamin Moore Aegean Teal cool or warm?

This hue is a calming balance of both warm and cool. The blue-green leans cool, while the gray undertones give it a creamy warmth to balance out the coolness.

The final result is a stunning rich color that's nearly perfectly balanced but can lean slightly cool in certain lighting situations.


Pin

Where can you use Aegean Teal?

This is one color you'll want to use in many different places! Add Benjamin Moore Aegean Teal to your walls, bedrooms, bathrooms, accent walls, furniture, kitchen islands, cabinets, vanities, trim, and even interior and exterior doors!

While I personally don't think I'd ever use it to cover all four walls in a room, I particularly love using this color as a bold pop of color.


Pin
Benjamin Moore Aegean Teal Undertones
Aegean Teal is a dark blue-green with strong gray undertones. It's a bit of a shapeshifter in how it appears, based on surrounding decor and lighting.
It will appear as a rich, soft blue with a touch of green and gray in bright lighting, but as lighting gets darker, it transitions into a deep teal. And in very low lighting, those gray undertones make a strong appearance.
North rooms have a cool light that remains fairly filtered throughout the day. In this setting, the gray undertones really shine through, making this color a bit less saturated.
South rooms are on the opposite end, with plenty of warm light that shines in throughout the day. Here, the shade shifts more towards the warm blue-green hue.
West facing rooms are flooded with ultra-warm natural light that really bring out the saturated shades of blue and green. In the mornings, it tends to read slightly more cool.
East facing rooms are the opposite, with the most light in the morning. The sun isn't quite as warm as it will be in the afternoon, so the paint remains fairly neutral in the morning and goes cool in the evenings.
If undertones make your head hurt, you're not alone! Grab your free copy of 5 Biggest Paint Choice Mistakes Click here or enter your email below. I'll send the tips right away!⤵️
Great Coordinating Colors for Aegean Teal
I love the way Benjamin Moore Aegean Teal looks with a large variety of other colors. Go bold with strong, rich complementary or contrasting colors. Or go for soothing and relaxing with monochrome and neutral color schemes.
This is one color that can easily transition from soft to bold! I'm a huge fan of taking this hue in either direction based on your home style and decor preference.
Consider pairing it with creams, crisp whites, vibrant earthy tones, rich gold, certain pastels, dark charcoal, or even warm wood tones. What a versatile color! If you're searching for coordinating shades, grab some paint palette ideas from this list:
Atrium White
Mineral Deposit
Winterwood
Sweet Spring
Tulsa Twilight
Burnt Russet
Muslin
Gray Cashmere
Chestertown Bluff
Desert Tan
Stormcloud Gray
Rosy Peach
Foggy Morning
Potter's Clay
LRV of Benjamin Moore Aegean Teal (2136-40)
Let's take a quick look at Aegean Teal's numbers. Visually looking at paint colors will yield very subjective results. That's why I recommend adding objective information through numbers to get a clear overall picture of a color and its qualities.
Light Reflectance Value (LRV) is a number ranging between 0 and 100. Each color has an assigned LRV number to indicate how much light a color reflects. Zero represents pure black because it doesn't reflect ANY light, while 100 represents pure white because it reflects ALL the light.
The LRV of BM Aegean Teal = 23.96
This value means that BM Aegean Teal is a dark hue. It absorbs MUCH more than it reflects. Thanks to its rich color saturation, this shade looks incredible with contrasting colors.
LRV…what? Don't worry, I've got you! Grab a FREE copy of my new guide to avoid the paint color picking mistakes people make! Click here or enter your email below. I'll send the tips right away!⤵️
BM Aegean Teal Compared to Other Colors
In addition to looking at LRV values, another way to get a solid feel about paint colors is to compare them side-by-side with similar colors. TIP: it's also the best way to definitively tell what a color's undertones are.
Here's how Aegean Teal stacks up against three equally popular but different shades.
Benjamin Moore Aegean Teal vs. Smoke
These two colors are in the same basic blue color family, but they are pretty wildly different. With an LRV of 56.49, Benjamin Moore Smoke is significantly lighter than Aegean Teal.
It also reads more blue-gray and way less green than Aegean Teal does. They may not be interchangeable with each other, but they do coordinate well together!
Aegean Teal vs. Benjamin Moore Sea Star
In contrast to the pairing above, these two colors are very close to each other. Sea Star has an LRV of 32.13, making it distinctly lighter than Aegean Teal. Besides that difference, these two hues look remarkably similar.
If you check Aegean Teal in your home and feel it's too dark, give Sea Star a chance.
Benjamin Moore Aegean Teal vs. Yarmouth Blue
Yarmouth Blue is basically a lighter, bluer version of Aegean Teal. Compared to Aegean Teal, Yarmouth Blue is a hue that takes its LRV of 60.74 and reads like a lighter blue-gray with very little green.
More Colors to Consider
Not yet feeling ready to commit to Aegean Teal? I gotcha! Check out these bold shades to see if they might be a better fit.
Feeling lost? I gotcha, boo! Grab a FREE copy of my new guide to avoid the paint color picking mistakes people make! Click here or enter your email below. I'll send the tips right away!⤵️
27 Real Life Homes Using Aegean Teal
Alright, time to dig into the good part: all that eye candy! But first, a warning. Do NOT fall in love with one of these rooms, run out and buy 4 cans and start painting your space! Remember the cardinal rule of painting: sample before you swipe that paintbrush!!!
As far as sampling goes, I highly recommend these mess-free, re-usable, re-positionable peel and stick paint samples ⤵
BM Aegean Teal Bedrooms
A quick note here: don't forget to consider picking the right paint finish…it's not only about getting the color right! We have an in-depth explanation of choosing sheens here.
In general for bedrooms, and low-traffic areas, flat paint is fine. If you like something with a bit of shine (and more ease of cleaning) opt for eggshell or satin.
1. Bedroom with filtered light
Aegean Teal works extremely well with contrasting earthy tones like the gold, rush, and beige you see in this bedroom shared by Alykhan Velji Designs on Instagram (photo credit: @klassen_photography). Because it's a nearly balanced hue, you can pair it with both warm and cool colors.
2. Bedroom with Aegean Teal Accent Wall
HGTV host @noelgatts designed this spunky space for an episode of Home Inspector Joe, and it definitely has star quality. You don't get TV-worthy by looking boring and bland.
Notice all the variations in this hue thanks to the lighting. Above the warm nightstand lightbulbs, the green pokes through, whereas in the shadows of the darker corners, the color looks deeper, more saturated and blue.
The other walls in this space are Stone White from Benjamin Moore, and trim color is Chantilly Lace.
3. Cool Light in a Bedroom
This bedroom also has bright natural light, but it's cooler which makes Benjamin Moore Aegean Teal read as a dark blue-green with gray undertones. The gray helps to soften the saturated color.
4. Aegean Teal as a Bedroom Accent Shade
As much as I like Aegean Teal on walls, my favorite way to use it is as an accent color. Painting interior doors are the perfect way to add a pop of color.
5. Aegean Teal with Bright Light
A true chameleon, Aegean Teal reads very differently in every situation. Here, the bright light and crisp, neutral decor draw out the blue that makes this hue so popular and appealing.
6. Gray-Green Undertones
If you didn't know that Aegean Teal had such amazing color-shifting qualities, you probably wouldn't believe that the colors in the example above and this one are the same. Oh, but they are the same!
The yellow-tinted lighting in this room is making the paint read as a deep green-gray.
7. Pop of Color
A pop of color can literally be just that – a small amount of rich saturation. In this awesome VRBO from host Dooe Diligence Home, there's only about 1/3 of the wall that is painted in Aegean Teal (the rest of the room is Ben Moore Simply White, with a teeny tiny strip of Harbor Haze above at the chair rail), but it's just enough to balance out the equally rich earth tones in the space.
Kitchens in Aegean Teal
For kitchens, eggshell or satin are popular finish choices for walls. For cabinets consider semi-gloss or high gloss for the most durable finish (and a gorgeous glow).
8. Aegean Teal Cabinets at Night
Go Aegean Teal with your kitchen cabinets! Move over, neutrals, bold moody colors are becoming the new go-to favorite.
9. Kitchen Walls in BM Aegean Teal
And this shade looks great on kitchen walls with contrasting cabinets, too. The soft white cabinets in this space from The Wicker House keep the kitchen from getting too dark. I love the earthy countertops and the wood tone accents.
10. Kitchen Island Painted Aegean Teal
Definitely consider a hue like Aegean Teal for your kitchen island. It goes with so many colors and adds that perfect moody pop of color.
11. Aegean Teal in Artificial Light
In this artificial lighting, the paint looks blue-gray. The cooler hue contrasts perfectly with the warm wood floors. The kitchen cabinets in this space are painted Benjamin Moore White Dove.
If you scroll through the pictures, I love the one of the windows. It really feels like Aegean Teal connects the indoors with the outdoors.
12. Two-Toned Kitchen in Aegean Teal
Anytime you use deep moody shades like this one, you need a way to prevent the paint from making the area too dark. A great technique is to keep the upper-level light and bright while painting the lower level the darker shade.
13. Low-Light Two-Toned Kitchen
If this kitchen was only painted in neutrals, it would look long and stylish. However, adding in a bold color like Benjamin Moore Aegean Teal makes this kitchen trendy and fun. I love that contrasting orange oven door!
14. Terrific Island Treatment
ACM Designs Inc. has some amazing kitchen designs, and the first picture in this IG slideshow shows such a unique take on the use of Aegean Teal.
When paired with natural wood tones (like this ceiling), Aegean Teal creates such a natural, home-y vibe.
Benjamin Moore Aegean Teal Dining Areas
15. Bright Dining Room
This dining area is awash in warm light which tends to hide the gray undertones and make the paint seem brighter than it does in other rooms. In addition, the warm gold and wood accents warm up the cool blue-green walls.
16. Teal Dining Room Accent Wall
The light beachy colors in this space designed by Julie Howard for Timber Trails Homes are a natural fit for Aegean Teal. When paired together, it creates perfect coastal decor.
Living Rooms in BM Aegean Teal
17. Low-Light Living Room
Dark saturated colors run a strong risk of becoming overwhelming, so it's important to balance them out with contrasting colors. This room is a perfect example.
The levels of natural light are low enough that the paint shows its tendency to go dark, but the surrounding decor keeps it just light enough to be soothing.
18. Living Room with Aegean Teal Walls
Look at the difference in how this paint looks based on whether the light is directly hitting it or not. I find colors with both blue and green tones fascinating and this is an example of why.
Look at the different areas and whether they appear more blue or more green (Photo by Nanette Wong; shared on Houzz).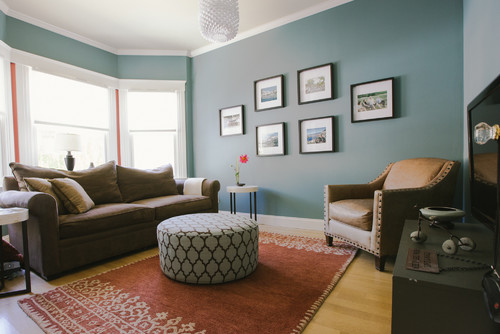 19. Benjamin Moore Aegean Teal Accent Wall
I absolutely love this space from @vineandvintage! So many people are pigeon-holed into having white walls.
Flip things around by painting an accent wall (or as we've already seen, the ceiling!) in bold color and keeping other walls light and bright (or using a light pattern that uses the color). The room remains bright but is incredibly unique and visually interesting.
20. Low Light with Trees
The very low, yellow lighting in addition to seeing the forest through the glass doors makes Aegean Teal read almost as a dark green. The effect makes you feel as if you're outside!
21. Built-ins with BM Aegean Teal Paint
I love this clever way to highlight such a deep color from Evolution of Style Blog! The bright light makes the color read as blue-gray with slight green undertones. It's gorgeous!
Aegean Teal Painted Bathrooms
Don't forget the finish! For bathrooms the perfect sheen is either an eggshell or satin. Why? We'll tell you in this post about paint sheen.
22. Aegean Teal Next to White Subway Tile
Considering that Aegean Teal was inspired by the colors of the Aegean Sea, I think this hue is ideal in bathrooms since it's near water. I love this accent wall.
23. BM Aegean Teal Bathroom Vanity
I'm sold! Benjamin Moore Aegean Teal can be the means to add some whimsy to a bathroom. Just add some playful colorful decor and you have success!
24. Aegean Teal with Yellow Light
The yellow-tinged artificial light combined with the lack of natural light causes the paint to read as a deep green-gray.
Benjamin Moore Aegean Teal in Other Spaces
25. Aegean Teal Entryway
Mudrooms can be chaotic, cluttered areas. Adding a balancing, restorative color to the room can help keep the harmony you crave.
26. BM Aegean Teal Camping Out in a Deluxe Camper
If you've never dreamed of living as a full-time rv'er, you may catch the bug after seeing this tricked out rig from the talented team at @driftless_rv_renovators.
Aegean Teal looks amazing on the board and batten treatment, while the upper walls are painted one of our faves, Chantilly Lace…my own personal go-to for camper walls (see our camper renovation highlights on Instagram).
Aegean Teal Home Exteriors
27. Aegean Teal with Yellow Doors
This color is a terrific coastal shade, and this example is so cute! I love the contrasting darker window shutters paired with the light trim and yellow doors.
Benjamin Moore Aegean Teal is a lovely rich paint color that radiates peace and tranquility. It's bold yet has a softness that makes it a natural fit in many spaces.
However, it's not for everyone or every area! As with any color, make sure that you check this color by using a paint sample to see how BM Aegean Teal looks in your home before buying a full gallon (or more)!
Pin this paint color for later! And if you use this paint shade, leave a comment on the pin! That helps others decide if they want to try this color, too!
Ready to show those boring, beige walls who's the boss at home? Grab my free guide to help you sidestep the mistakes that almost everyone makes when it comes to picking paint! You'll be on your way to perfect paint promptly…pinky swear.