Use this list of the best yellow paint colors as you narrow down the choices and find that ideal cheery shade for your home!
Gray, beige, and greige shades of paint have been a favorite for homeowners and interior designers for a while now because they offer so much flexibility and versatility.
These neutral shades offer a beautiful, unoffensive backdrop that allows decor and fun pops of color to stand out. They also make it easy to make decor changes without the effort or cost of repainting your walls.
In fact, neutrals have been such a thing for so long that many people seem to forget about using colors on their walls.
While I'm all about versatility and keeping my options open, I also love seeing a solid splash of color. I often find that creative use of bold colors adds fun personality that neutrals just can't replicate.
That's one of the many reasons I started a series of color-related paint posts on this site that provide all the information you need about various popular shades. I also have several posts on particular color families to help you narrow down the sea of hue options into manageable lists of possibilities.
Today, I have a new color family to explore, and I'm going bolder than normal! I'm sharing some amazing shades of yellow, from beautiful buttercream to bold mustard. If you are searching for a yellow paint color that will look stunning in your home, check out these recommended hues.
Let's dive in!
Best Yellow Paint Colors FAQs

What does yellow paint do to a room?

It can make a room brighter and fill it with a cheerful, playful, or energetic vibe. And, as a bright color, yellow can make a small room feel more airy and spacious.

Which wall should be painted yellow?

I would say this depends on your preferences. Normally, I recommend painting the wall you see first when walking into a room as the accent wall. And you can definitely do that with yellow.

However, with yellow paint colors, I think there's another factor to consider. That's lighting, my friend. If the wall you see first when entering a room is also the same wall that gets bright morning light, it could make you run out of the room while covering your face and yelling, "my eyes!" rather than enjoying the experience.

In other words, although it's beautiful and offers many benefits, sometimes yellow can be an overpowering color. Take that into account as you choose your shade and the wall (or parts of the wall) you want to paint!

What shade of yellow is calming?

Bright yellow tends to be energizing, while pale yellow is calming. If you're craving a little cheery addition to your life but want to keep it on the tame or subtle end of the spectrum, shoot for a shade such as Benjamin Moore's Man on the Moon. 

Daybreak and Icy Lemonade, both from Sherwin Williams, are also beautiful pale yellows.


Pin

Where can I use yellow paint colors?

With some thought and consideration, you can use yellow nearly anywhere! Consider it for your:

– Entryway
– Living room
– Kitchen
– Dining room
– Bedroom
– Bathroom
– Playroom
– Accent wall
– Home office
Want the cliff notes for choosing the perfect color every time? Grab a FREE copy of my guide to help you avoid the paint color picking mistakes most people make!
Psychology of Yellow Paint
This color family can promote happiness, confidence, positivity, creativity, and curiosity. It's an energetic, cheerful, and just plain fun color that can completely change the ambiance of a space.
However, for some people, bright shades of yellow can be overwhelming and cause anxiety. Before you slap a coat of canary yellow on every wall in a room, consider other important factors like undertones and lighting (which you can read more about below).
Yellow Paint Undertones
Ok, time for a basic lesson in design terminology. The "mass tone" (or overtone) is the primary color that you see (green, white, etc.). Undertones are subtle nuances that help distinguish one shade from another.
For example, the gray you see when you look at a stormy blue would be an undertone.
Yellow paint tends to have yellow, orange, or even gray undertones. When a shade has yellow undertones, it looks like the classic yellow that most people think of when they hear the word.
Every once in a while, you'll see notes of green undertones in yellow paint, but that's not as common as the other possibilities.
Make use of large paint swatches to thoroughly vet any colors you think you like before buying them. Samplize peel-and-stick paint swatches give you a chance to see the paint in action and check out those undertones before committing!
Yellow Paint Color Lighting Considerations
I already mentioned that lighting can impact yellow – but how? Let's provide some more color (ha!) and detail by breaking down how different types of lighting on yellow paint.
North-facing rooms contain cool, blue-toned natural lighting. This shadowy lighting will tone down yellow paint but can make some shades with gray undertones look dingy.
South-facing rooms contain consistent bright warm lighting. Yellow paint will appear bright and true in southern lighting.
West-facing rooms contain different types of light as the sun moves across the sky. Shadowy light in the morning will mute yellow paint, while ultra-warm (almost glowy) late afternoon and evening lighting can make yellow appear ultra-warm.
East-facing rooms are the opposite of west-facing rooms. Bright warm morning light will make yellow look bright and cheery, while shadowy lighting later in the day will make a yellow paint color appear more muted.
Feeling lost? I gotcha, boo! Grab a FREE copy of my new guide to avoid the paint color picking mistakes people make! Click here or enter your email below. I'll send the tips right away!⤵️
Tips for Yellow Walls That Work
Yellow paint can be an incredible and much-needed addition to your home, but it takes a little more forethought and planning than some shades to use it optimally. Use these tips to help you find success!
Yellow isn't a color that will work on all four walls and the ceiling because it will quickly become overpowering.
If you want to use a yellow paint color on all four walls, opt for pale shades or muted yellows.
Brighter or bolder yellow is ideal for an accent wall or focal point.
Bright yellow can be emotionally overstimulating and cause anxiety unless it's used in small doses.
When you create a yellow focal point, tie it into the rest of the decor by adding pops of yellow throughout the room (like a yellow chair or pillows!).
Tone down the impact of yellow walls by including accents in cool colors such as deep grays or muted blues and greens.
More Colors to Consider
If this list of yellow paint colors isn't winning you over, but you still want a touch of cheer, check out some of these popular shades with yellow undertones!
15 Popular Yellow Paint Colors to Give Your Home a Cheery Vibe
Here are a variety of options to help you find the perfect shade for your own home. Deep yellows, golden hues, sunny hues, and light yellow paints. We will try to cover an extensive range of yellow options (without overwhelming you with choices) and show you possibilities of what can be accomplished with some yellow paint.
For each color, I include a short description with pertinent info about the shade and a photo to show an example of how it can appear in real life.
Sheen note: Picking the right color is only winning the battle, not the war. Remember to pick the right paint finish, or sheen, also! Read up on what you need to know about picking the perfect paint sheen.
1. Sherwin Williams Butter Up
Butter Up (SW 6681) is a creamy light yellow with an LRV of 74 that works in many spaces. If you want to add a cheery vibe without the risk of overshooting the runway in intensity, this shade could be a great choice.
And this incredible kitchen by the talented husband/wife team at Heart and Hammer Homes is just proof of how amazing yellow can be! It's not a safe choice, but it's a grand slam when used well, as you can see here. (Photo credit: Sean Litchfield)
2. Sherwin Williams Friendly Yellow
SW Friendly Yellow (SW 6680) is aptly named! This soft yellow paint color (LRV 76) is light with mild gray undertones to keep it "friendly" and prevent it from appearing too intense.
If you want to paint an entire room yellow, take a page from Echelon Custom Home's book and consider Friendly Yellow. It's an excellent choice that offers a drop of sunshine, and a touch of sophistication.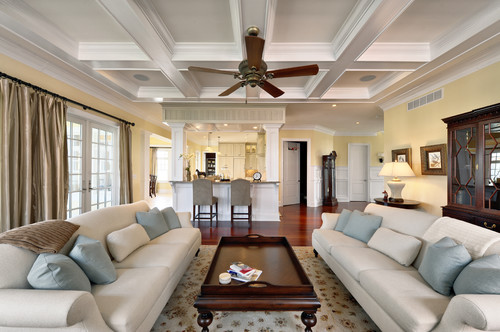 3. Benjamin Moore Hawthorne Yellow
Hawthorne Yellow (HC-4) is part of Ben Moore's Historical Collection. If you're searching for a balanced, pale yellow, this sunny shade has an LRV of 71.33, and it presents itself as a livable and timeless option.
This color can be a perfect choice for an exterior paint, as you can see below.
I like this example because you can see how the shade acts in different lighting, in the bright sun, as well as the shadows. During the "golden hour" – that period just before dusk, this shade gets even warmer and richer. (Ridge Creek Custom Homes via Houzz)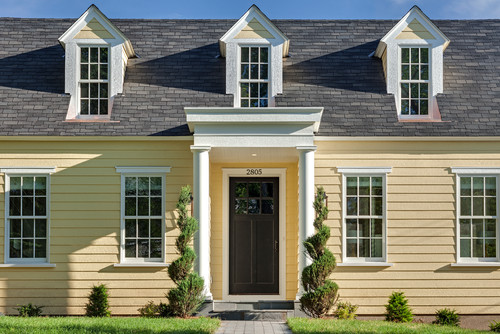 And here's a good example of this shade being used for an interior. It's punchy! So it's not for the faint-of-heart when it comes to color! But it's far from neon yellow, too. It's restrained but still bold enough to say "I'm yellow, and you're gonna love me."(Bickford Construction via Houzz)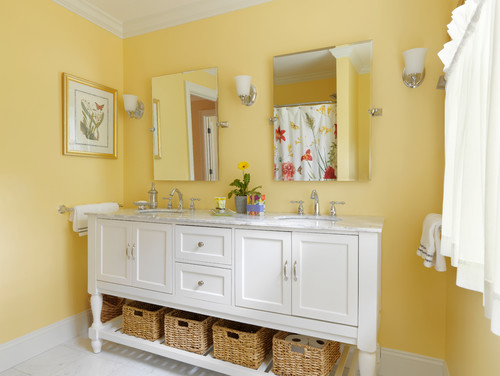 4. Benjamin Moore Golden Straw
BM Golden Straw (2152-50) is a cheery yellow paint color (but not one of the sunshine yellows) with an LRV of 68.86. It's a shade that can work well for many design styles, like french country, modern farmhouse, or traditional.
Here you can see Golden Straw is helping to create a happy, welcoming and unique kitchen (SHKS Architects via Houzz).
With lower cabinets and the pantry closet painted BM 2152-50, and the kitchen walls painted Benjamin Moore Mayonnaise, this kitchen serves up subtle cheer with a side of buttery yellow bliss.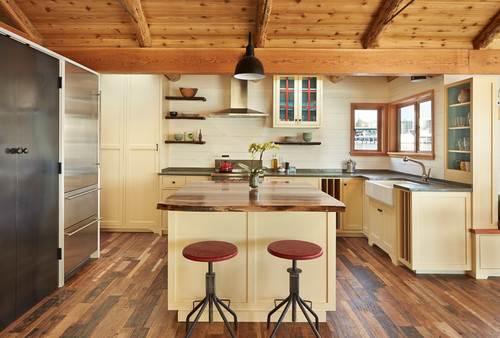 5. Farrow & Ball Dayroom Yellow
Dayroom Yellow No. 233 is a gorgeous pale yellow that oozes charm.
With an LRV of 77, this sunny yellow is both bright and cheery without looking too vibrant.
It makes such a happy and playful yellow accent wall in this gender neutral nursery/child's bedroom from designer Shirley at @houses_by_s.
6. Sherwin Williams Honey Bees
SW Honey Bees (SW 9018) is a sunny yellow paint color with an LRV of 70.
It's light, bright, cheery, and great for playrooms or anywhere you want a splash of bright yellow! Way to make that (almost hidden) front door pop, @laurensferrella!
7. Farrow and Ball Citrona
F&B Citrona (CC3) is a vibrant yellow with an LRV of 64. However, its subtle green undertones might cause some to say it's a modern chartreuse.
I love this entryway accent wall from Effortless Style.
8. Sherwin Williams Banana Cream
SW Banana Cream 6673 is a lighter yellow paint color with a beige leaning and an LRV of 75.
This office from Echelon Interiors (via Houzz) would be an energizing space to work, even on a Monday.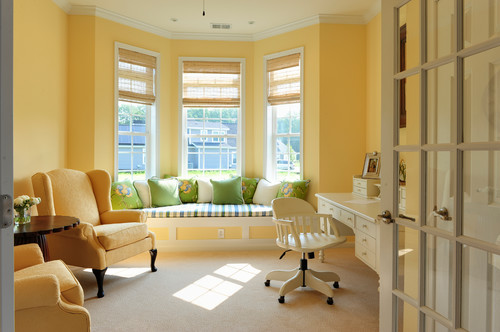 9. Behr Unmellow Yellow
Behr Unmellow Yellow P300-7 is a vibrant yellow with subtle orange undertones to give it a saturated look and energetic vibe. Its LRV of 64 means that it's a rich golden yellow. Sounds intense (and it is) but it can look incredible.
Look at how much this punchy, bold color spices up what could have otherwise been a pretty boring, bland door at the office of Oh Happy Day.
Yellow in a space says something about the occupant's personality, I think. And if you scroll the feed of Oh Happy Day, you'll see that this door color is perfectly on point for their colorful, crafty, cheerful vibe.
10. Sherwin Williams Daisy
SW Daisy (SW 6910) is a vibrant, classic sunny yellow paint color. With an LRV of 68, it's bold, bright, and beautiful in all the right ways!
This bedroom from @thehomeandhavenco just makes me feel happy looking at it.
11. Benjamin Moore Bold Yellow
Bold is right! BM Bold Yellow (#336) is a rich, saturated classic golden yellow with an LRV of 69.03. 
Although it looks terrific on these walls from Arsenic Lace, I can hear it begging to be painted on a front door!
12. Sherwin Williams Brittlebush
SW Brittlebush (SW 6684) is a medium bold yellow paint color (LRV 48) with orange undertones.
This classic mustard yellow stands out and looks terrific on these cabinets from @mixtec1972.
13. Benjamin Moore Yellow Raincoat
BM Yellow Raincoat (#2020-40) is a classic yellow that's as iconic as its namesake and will brighten up any space, or door, like this one found at beautiful Canepella Farm.
With an LRV of 68.87, it's bright but not too bright, and it lacks strong undertones for a clean, timeless look.
14. Sherwin Williams Sunflower
Wow! Sunflower (SW 6678) is the perfect fusion of yellow, orange, and brown.
It's bold and rich (LRV 40), and @the75design's creative use of it on the ceiling (as behind the TV) draws the eyes exactly where they're wanted: at the far end of the room.
15. Farrow & Ball Babouche
Babouche (#223) is a rich, medium yellow paint color with an LRV of 56. Truth be told, I think this is my personal favorite shade on the list. And that is saying a lot, because yellow is my favorite color, period!
The laundry room or powder room are often homeowners' favorite places to "play" with color. And this bright, inviting space from talented Katie Rosenfeld and Co. certainly would make laundry day much more appealing, I think.
Babouche has a ton of depth. I think it looks like a more "mature" yellow…richer, fuller-bodied…like an aged, oaky cabernet instead of a cheap, boxed merlot.
That's a wrap on my collection of the best yellow paint colors. I hope it inspired you to try life on the colorful side and embrace one of these vibrant and beautiful hues!
Yellow may not be the "safest" choice, that's true. But as you can see in these gorgeous examples, the perfect yellow paint color can make a great backdrop as an accent color, or it can look amazing as an all over color to create casual living areas that are inviting, and don't take themselves too seriously.
Remember it's always better to sample than be sorry!
As far as sampling goes, I highly recommend these mess-free, re-usable, re-positionable peel and stick paint samples ⤵
Pin these yellow paint colors for later! And if you use one of these paint shades, leave a comment on the pin! That helps others decide if they want to try one of these colors, too!
Pssst…before you go, I sure would love to hang out with you again really soon! And before you're on your way, make sure you grab your free copy of the 5 Biggest Mistakes People Make When Picking Paint, so you can avoid the heartache (and hole in your wallet) when your paint choices don't quite work out! Click here, and I'll send your free copy right now!