Are you looking for beautiful green colors to paint in your home? Here are the most popular 15 green paint colors to help you find that perfect shade!
Have you been noticing green paint everywhere you look? Green has become a popular paint color now that people have caught on to what designers have known for a long time.
A (not so) simple selection of various shades of green can transform a space into one that feels energizing, dramatic, or serene.
Color psychology is an important factor in green paint's surging popularity. Green is closely associated with nature, and as a result, it symbolizes health, peace, sanctuary, and tranquility.
As a blend of energizing yellow and soothing blue, green is the very essence of balance.
This extremely versatile color can range from bright and vibrant to moody and restorative. And even though I tend to gravitate toward blue, I am grooving with this green trend.
FAQs about Green Paint Colors

What undertones does green paint have?

Since green is a blend of yellow and blue, it will have either blue or yellow undertones. True green will be an even mix of both colors, but most greens will lean one way or the other.

Sage greens are a section of the green color family that also have brown or gray mixed in to give the color a muted quality.


Pin

Is there a warm green?

Yes! Green paint colors can range from warm to cool, and it all depends on which undertones are the strongest.

If a shade leans towards yellow, it will be warm (ex: olive green). Alternatively, if it leans blue, it will be cool (ex: blue-green).

What colors pair well with green paint?

Because green is a blend, it can vary significantly in its appearance based on the amounts of blue and yellow mixed together.

Some shades may shine next to bright colors, while others demand neutral tones. 

Generally speaking, green looks amazing with: 

• Grays
• Whites
• Creams 
• Browns
• Grays
• Natural wood tones
• Beiges
• Pinks 
• Yellows
• Blacks
• Taupes


Pin

Where can I use green paint colors?

Anywhere you want to feel a little closer to nature! Because it's such a versatile color, consider using green paint for your:

• Walls
• Accent walls
• Floors
• Ceilings
• Doors
• Built-ins
• Cabinets
• Accent decor (ex: fireplaces)
• Furniture 
• Trim
• Home exteriors
How Different Types of Lighting Affect Green Paint Colors
Undertones in paint are the direct result of the paint color mixing process. Additionally, different types of lighting have different colors and tones.
The way these factors interact is how and why lighting influences can strongly impact how paint colors appear.
Cool-tinted lighting pulls out cool tones and mutes warm tones, and at the other end of the spectrum, warm-tinted lighting pulls out warm tones while muting cooler ones.
Green paint colors can appear to shift a LOT in different lighting due to their undertones. That's why color blends like green are often a great choice for people who get bored with things quickly.
Although each green can vary, here's how you can expect green paint colors to behave:
Cool or passive lighting – greens will appear darker and muted. Unless you want your color to appear that way, choose a green with stronger yellow undertones to balance out the effect of this lighting.
Warm lighting – green paint will brighten (and warm) up so that it reads lighter. This type of lighting can make warm-leaning greens appear more dramatic. If you want to keep your green from looking too warm, choose one with stronger blue undertones to counter-balance the warmth of the lighting.
Coordinating Colors for Most Green Paint
If you're searching for a few reliable go-to's to pair with a wide range of green paint options, I have a few suggestions.
Note: ALWAYS take the time to check how samples of paint colors work with each other AND see how they appear in your home before forking out $$ and making a commitment you end up regretting.
Samplize paint swatches are the most reliable way to see how paint colors truly behave in your home and with your lighting! 
How to Choose Green Paint Shades – Tips and Tricks
Green is surprisingly versatile – you might say that it's nature's "neutral."
And with such a wide range of options, picking one shade can be daunting. Use these tips to help make the process easier.
Search through images (like the ones down below!) to decide which vibe you want so you can narrow down your shade choices to sage, light green, dark green, etc.
I recommend starting small if you're new to using green paint. For example, paint trim, an accent wall, or furniture before painting an entire room in green.
Dark greens look stunning on furniture and cabinets. Dark shades can also give rooms with an abundance of natural light a moody, cozy vibe.
Light (or pale) greens can give a well-lit room a fresh, rejuvenating ambiance.
Pairing any green with wood tones looks natural (forgive the pun) and beautiful.
Green-blues project serenity and are ideal for bedrooms.
15 Best Green Paint Colors for Your Home
Ok, let's check out some of the top shade choices on the market! Since there's a pro-green trend right now, the paint market offers a plethora of options! This list includes a mix of colors so that there's at least one recommendation for each type of green paint.
Note: I'm only including a few of the most popular green paint colors to prevent overwhelming you with too many choices.
1. Sherwin Williams Pewter Green
Let's start with bold and neutral! Sherwin Williams Pewter Green is a dark, muted green. It has strong gray undertones that make it feel neutral and soft but be aware of its hidden yellow undertones so they don't surprise you.
This stunning kitchen from KD Design (photography credit: @sarahbakerphotos) features upper and lower cabinets in Pewter Green SW 6208. Can you see the color variations between the shadows and the light?
2. Benjamin Moore Aegean Teal
Another bold option, Benjamin Moore Aegean Teal 2136-40 has rich blue and gray undertones that really show themselves in cool lighting. In low lighting, this color can read quite moody.
And in a room like this dining room from Julie Howard for Timber Trails Homes (photography credit: Stoffer Photography Interiors), you can see more of the green in the shadows while the lighting draws out the blue and gray undertones. This teal green never looks the same in two places!
3. Sherwin Williams Sea Salt
Let's lighten things up with Sherwin Williams Sea Salt 6204! This beautiful, soothing pale green lends a timeless, chic vibe anywhere you use it.
I love the way that Ginnie of @justanotherfarmhouse uses this color in her incredible laundry room…this clean, au natural shade is the perfect choice for a room that's all about clean! The door color here is SW Iron Ore.
4. Sherwin Williams Shade Grown
Many of us gravitate toward lighter, brighter colors on the whole, but if you're like me, sometimes you'll see a dark, moody space like this brilliant bathroom from Elizabeth and Scott Mathieson – and these emerald jewel toned shades will steal your heart.
SW Shade Grown 6188 is all the things you'd want in a green paint. I'd call it rich, earthy, and a little bit smokey. There are strong brown undertones, but it can also go gray in cool light.
5. Benjamin Moore October Mist
Thanks to some gray and brown undertones, this green paint shade (Ben Moore's #1495) could be considered to be sage green.
It's warm enough to complement the wood tones and gold accents in this living room from @vianedesigns.
6. Benjamin Moore Peale Green
Many people think of green as a cool color and avoid it, but Benjamin Moore Peale Green HC-121 shows off the color's warm side.
This bedroom from The Happy Housie is warm, inviting, and rejuvenating at the same time.
7. Benjamin Moore Vintage Vogue
Vintage Vogue from Ben Moore #462 hits all the right notes. Thrifty Decor Chick's use of this shade on these built-ins puts into visual context what words only try to describe.
Some of my favorite descriptors for Vintage Vogue (isn't the name great?) include warm, neutral, saturated, and versatile.
8. Behr Nature's Gift
This beautiful warm, earthy green is a little darker than light green. It has several undertones, including yellow, brown, gray, and a hint of blue, that make this one shade dance in different lighting situations!
Cyndy of The Creativity Exchange chose a lighter, brighter off-white to keep the green the star of the show in this lovely laundry room.
9. Sherwin Williams Restful
Green paint colors can be energizing and playful, like this beautiful light green with blue undertones from Sherwin Williams (AKA #6458).
It's closer to teal than mint and offers a cheery vibe. Using it as a fun, unexpected cabinet color, as designer Kathleen Anderson did, is inspiring! To me, this color feels like a nod to the 1970's, and I'm here for it.
10. Sherwin Williams Greenfield
Greenfield from Sherwin Williams (#6439) offers a forest green vibe with a hint of yellow to yield a vibrant shade of green that breathes life into small spaces.
This grounding shade is working hard in this bathroom from Diana Elizabeth Blog to brighten it up and tie all the design elements together.
11. Sherwin Williams Retreat
Many greens can be refreshing and invigorating, but SW Retreat is the opposite. Its gray undertones, as seen in this entryway from Angela Marie Made, give it a soothing and restorative quality.
The name "retreat" seems pretty fitting, don't you think?
12. Benjamin Moore Cushing Green
Chad Esslinger Design went for a deep, saturated, gorgeous jewel-tone in his lovely kitchen, and wow…the results are so, so inviting.
Ben Moore Cushing Green HC-125 is everything you'd want in a green paint, is it not? Chad believes he recalls the wall color here to be BM Gray Owl, and the trim is (most likely) Decorator's White, as that's what he has in the rest of the home.
Photo credit: Picture Perfect House Contractor: Platinum Builders
13. Behr Avocado Whip
Light, earthy, comforting, and inviting are what I would use to describe Behr Avocado Whip in this kitchen from La Pietra Tile & Stone via Houzz.
I guess those same words could also be used to describe the fruit which gives this color its inspiration!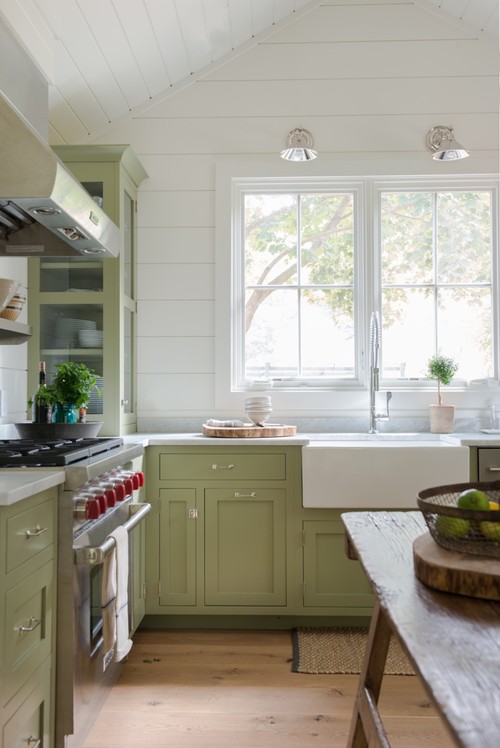 14. Sherwin Williams Evergreen Fog
Green grays are ideal for bedrooms like this one from Blesser House because they encourage rest and relaxation.
I don't think I'd have any problem curling up with a great book in this bedroom!
15. Benjamin Moore Palace Green
If you're searching for a green that's energizing and stunning, take a page out of Hook and Hearth's design book and look to CW-520, a rich emerald green from Ben Moore.
The green walls and large plants make me feel as though I'm connecting with nature.
Don't green paint colors catch your eye and draw you in for more? Whether you're looking for a new paint shade to energize or refresh, there's a green for that!
Be sure to grab paint samples to see how your favorite picks will look in your home before committing to them.
I highly recommend these type of samples because they are re-usable, re-positionable, and won't leave a mess, like a typical paint sample will…
Not sure these greens are your thing? Check out these other paint color options, too:
Pin this paint color for later! And if you use this paint shade, leave a comment on the pin! That helps others decide if they want to try this color, too!
Ready to show those boring, beige walls who's the boss at home? Grab my free guide to help you sidestep the mistakes that almost everyone makes when it comes to picking paint! You'll be on your way to perfect paint promptly…pinky swear.