Read about Sherwin Williams Popular Gray, and see 12 real homes that use it!
Popular Gray by Sherwin Williams (SW 6071) is a warm, greige paint color that offers a good balance of gray and beige with a touch of taupe to keep it liveable.
The world of greige paint colors is vast thanks to the popularity of this color family with interior designers, realtors, and homeowners.
When searching for a new greige paint color for your home, after a while, it begins to feel as though if you've seen one greige, you've seen them all. So how about a greige paint color with a little personality?
Popular Gray can be a seriously beautiful color, but it can also be a little finicky. The key is knowing when (and where) to use it – and when not to.
And that, friends, is the entire purpose of my ongoing paint series of in-depth color reviews! I want to help people feel successful instead of frustrated when picking out new paint colors.
Today's paint color review is one you may not have heard of before. But, if you're checking out greige paint, it's one you need to know. Say "hello" to Sherwin Williams Popular Gray.
What color is Popular Gray?
I bet that, based on its name, you're expecting SW Popular Gray to be a beautiful (and popular) gray. Surprise! This shade is actually a warm color. It's a "greige" which is defined as a shade that has a good balance of beige and gray.
And although it's a beautiful and timeless shade that can be a refreshing and airy paint color option, it's not one of the most popular greiges from Sherwin Williams (despite the name!). Why? I think it has to do with its chameleon qualities and pink-purple undertones.
At times it will read as a soft, light gray, while at others, it will show off a beige base with a warm clay undertone.
However, writing this color off without investigating further means you'll miss the opportunity to find what may be the perfect fit for your home. If you want a soft and subtle light greige that offers more than meets the eye, check out Popular Gray!
And to move you quickly from paint zero to hero, I have a great, free resource for you. Grab a copy of 5 Massive Paint Mistakes to Avoid…because when all else fails, as long as you stay away from these 5 cardinal painting sins, you're probably doing A-OK!
FAQs about Sherwin Williams Popular Gray

What other colors are similar to Popular Gray?

Attempting to color match between paint color brands never works as well as you assume it will. Each paint company's differences in the color blending process create slight variances in paint colors that make impactful (and usually unwanted) differences on walls.

If you want a Benjamin Moore equivalent, the closest match would be Ben Moore's Collingwood, although it's a little less taupe and leans more greige. Benjamin Moore Balboa Mist can also be an option. 

Also, Behr Burnished Clay is a close substitute, with similar taupe undertones but a touch grayer (and less greige).

Is Sherwin Williams's Popular Gray warm or cool?

Popular Gray is a warm greige. Its name is a little deceptive because instead of being a true gray, it's a greige that will read gray in certain types of lighting (see more about that below). 
Where should I use Sherwin Williams Popular Gray? 

Popular Gray can look incredible in almost any area of the house, including:

Kitchen
Cabinets and vanities
Dining room or eat-in area
Laundry room
Entryway
Bedrooms
Living room 
Bathrooms
Home office
Accent walls

Popular Gray fits well with modern farmhouse, traditional, transitional, mid-century modern, and French country homes.
If undertones make your head hurt, you're not alone! Grab your free copy of 5 Biggest Paint Choice Mistakes Click here or enter your email below. I'll send the tips right away!⤵️
Sherwin Williams Popular Gray Undertones
Popular Gray has a greige base with a good balance between beige and gray, but some pink and purple undertones can show up to the party more often than some people would prefer.
People tend to shy away from pink and purple undertones (can you blame them?). But if you know how to work with them, you can end up choosing an incredible color that takes your home from boring to extraordinary.
Do you want a secret weapon that will prevent you from choosing paint colors that look awful in your home? Check out Samplize peel-and-stick paint samples!
These large, repositionable paint swatches are the best way to reveal how any shade will appear in YOUR home, leaving no room for doubts. Take full advantage of them by moving them around throughout the day to see how changing light impacts the colors you like.
How Different Types of Lighting Affect Sherwin Williams's Popular Gray
Different types of lighting heavily impact the way paint appears. As the sun moves across the sky, the natural light color also changes, influencing how paint colors look.
Don't expect ANY paint color to look the same on various walls, in different rooms, or at other times of the day.
Popular Gray is a paint shade with some flex and will shift its appearance (and maybe dance a jig, too), depending on the lighting.
Here's how you can expect Popular Gray to look based on different types of natural lighting.
North-facing light – this shadowy cool lighting makes most colors appear darker and cooler. Since Popular Gray has such warm undertones, rooms with northern light are where this color really shines because its gray side will come forward, and the taupe undertones will be less prominent (if visible at all).
South-facing light – this consistent warm lighting draws out the soft, lighter side of colors. Popular Gray will look paler and more greige as the yellow-tinted light pulls forward the beige.
West-facing light – these rooms have shadowy cool light in the morning and transition to warm red-tinted exposure later in the day. Popular Gray will appear the most taupe in the late afternoon and early evening light.
East-facing light – these rooms have the opposite lighting scenario. Popular Gray will look terrific in a room with eastern light – if you use that room in the afternoon when the light is cool and shadowy!
When to Avoid SW Popular Gray
Well, first and foremost, if you aren't a fan of taupe undertones, carefully consider whether you like Popular Gray and if it's a good fit for your home and decor.
Next, for anyone who doesn't enjoy taupe undertones, I recommend avoiding this color in rooms with Western lighting at all costs. That uber-warm natural lighting will pull those undertones forward to their full potential, leaving you with a color you seriously regret choosing.
Also, steer clear of pairing it with very creamy colors because the yellow undertones in them will pull forward the taupe undertones of Popular Gray (and could make it look dirty or dingy). And whatever you do, avoid greens (or green undertones)!
Finally, if you're trying to stay clear of those undertones, I would recommend not pairing pink or purple decor accents with Popular Gray because they will influence the paint's appearance in a way you won't enjoy.
Great Coordinating Colors for Popular Gray
Popular Gray is a gorgeous shade that CAN behave as a versatile greige. Honestly, it can also be a little finicky because of those taupe undertones.
It naturally pairs well with whites and off-whites (that aren't too creamy), navy blues, dark grays, and darker greiges. It can also shine with dark purple or coral shades (but only if you want to embrace those undertones).
If you're in search of a few different colors that work with Sherwin Williams Popular Gray, check out these options to complete your color scheme:  
Spalding Gray
Heron Plum
Exclusive Palm
Versatile Gray
Chatura Gray
Morning Fog
Extra White
Spalding Gray
Incredible White
Coral Rose
Jubilee
Anonymous
Storm Cloud
Great trim colors for Popular Gray would be High Reflective White or Pure White if you want a clean, crisp contrast. Alabaster can be a great option if you want something a little softer and creamier. However, avoid using this combination in a room with warm lighting. Trust me.
LRV of Sherwin Williams Popular Gray (SW 6071)
Ok, what is LRV, and why do we care about it? LRV stands for "light reflectance value." Essentially, it indicates how light or dark paint colors are likely to appear.
LRV ranges from 0 – 100. A color with an LRV of 0 is pure black (no commercial paint color is that dark). On the opposite end of the spectrum, an LRV of 100 is a glaringly bright white (no paint color is that light, either).
The LRV of Sherwin Williams Popular Gray = 61
That means SW Popular Gray sits on the lower edge of the light range. It's dark enough to hold its own in even the brightest natural light, but expect it to wash out some.
LRV…what? Don't worry, I've got you! Grab a FREE copy of my new guide to avoid the paint color picking mistakes people make! Click here or enter your email below. I'll send the tips right away!⤵️
Popular Gray Compared to Other Colors
Let's evaluate this hue against some similar shades to see how Popular Gray stands out.
Sherwin Williams Popular Gray vs. Agreeable Gray
We'll kick off this section by comparing Popular Gray to one of the most popular greiges on the market: Sherwin-Williams Agreeable Gray (SW 7029). These two greiges are very similar. They have similar LRVs (SW Agreeable Gray is 60) and a good balance of gray and beige.
Although they're both beautiful creamy greiges, what sets Popular Gray apart (and makes it less popular, in my opinion) is the undertones. However, I recommend utilizing Popular Gray in rooms with cool lighting or an icy feel because its natural warmth will neutralize the coolness.
Sherwin Williams Popular Gray vs. Modern Gray
Sherwin Williams Modern Gray (SW 7632) is another close alternative to Popular Gray. It is also a greige with a similar LRV (62) and mild taupe undertones.
Next to Popular Gray, Modern Gray looks more greige, whereas Popular Gray will more often lean into its gray side.
Sherwin Williams Popular Gray vs. Anew Gray
The first thing you'll notice as you see these two colors together is that Sherwin Williams Anew Gray (SW 7030) is quite a bit darker than Popular Gray, thanks to its LRV of 47.
Your next observation is probably that they're both balanced greiges with subtle purple undertones.
Note that although they can do some shifting, both of these shades can add timeless elegance to almost any space.
However, given how dark Anew Gray is, I recommend reserving it spaces with lots of natural light where its saturation can add some wanted depth. And definitely check out those Samplize paint swatches!
More Colors to Consider
What do you think of Sherwin Williams Popular Gray? If Popular Gray hasn't struck you as the "perfect shade" then check out these other timeless, similar colors! 
Feeling lost? I gotcha, boo! Grab a FREE copy of my new guide to avoid the paint color picking mistakes people make! Click here or enter your email below. I'll send the tips right away!⤵️
12 Real Life Homes Using Sherwin Williams Popular Gray
So what do you think of Popular Gray at this point? I think SEEING the way Popular Gray appears in real-life homes can be a huge help in choosing (or vetoing) colors. Check out these 12 examples!
Bedrooms Painted in Popular Gray
Sheen note: Picking the right color is only winning the battle, not the war. Remember to pick the right paint finish, or sheen, also! Read up on what you need to know about picking the perfect paint sheen.
In general for bedrooms, and low-traffic areas, flat paint is fine. If you like something with a bit of shine (and more ease of cleaning) opt for eggshell or satin.
1. Balanced but Shifty Wall Color
This bedroom from Captiva Home Design uses brown accents to pull the beige half of this greige forward. And I have to stay – it's expertly done!
But if you look closely at the shadowy areas (ex: above the window), its gray half doesn't entirely step aside.
2. Cool and Classic
Doesn't this bedroom from @spikedteaandpeonies embrace the glory of a "girly" room? And even though there's pink galore here, Popular Gray's gray side stands out thanks to the cool-toned lighting.
3. Light Enough for Dim Rooms
This bedroom from The Domestic Mess may lack natural light, but it doesn't lack sophistication thanks to the smart use of Popular Gray.
Notice its shape-shifting nature between the shadows and the influence of the warm light coming from the lamp.
Living Rooms
4. Oozing Timeless Sophistication
This living space from Epic Development via Houzz displays the brilliance of Popular Gray. No hints of pink or purple here – just a beautiful unobtrusive greige that highlights all the incredible features of this room.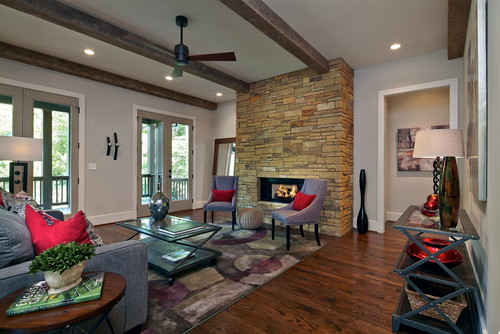 5. Enhancing Undertones
Contrast the previous example with this family room from Yzing. Before, you don't notice the taupe undertones, but this example highlights them.
The walls don't look obviously pink, but there's a hint of blush there to soften the space!
6. A Classic Greige with Some Flex
Love! To really appreciate the awesomeness of Popular Greige, take a moment to look at the entire space in this example from @to_mimishousewego.
Notice the pale gray on the left side of the picture, while the right side (with the warm lighting) appears considerably more beige.
Popular Gray may be many things (timeless, shifty, etc.), but it's never boring!
SW Popular Gray Kitchens
For kitchens, eggshell or satin are popular finish choices for walls. For cabinets consider semi-gloss or high gloss for the most durable finish (and a gorgeous glow).
7. Warm Sophistication
I love this kitchen from @foreverafterhomes! It's subtle, timeless, and all the elements come together to create endless layers of interest and sophistication.
8. Popular Gray Island
Two things strike me as I look at this image from @melaniehillenbrand. First, this is the darkest I think I have ever seen Popular Gray look (thanks to low levels of natural light).
And second, look how well its warmth works with that wood floor!
Bathrooms
Don't forget the finish! For bathrooms the perfect sheen is either an eggshell or satin. Why? We'll tell you in this post about paint sheen.
9. Subtle and Flexible
Popular Gray's shifty nature means that it can flex in different lighting. However, that same quality also means that it can work with a variety of accents, like this gorgeous wall in this bathroom from @sprucerichmond!
10. A Timeless Choice
A bathroom that looks as incredible (and timeless) as this one does from Echelon Custom Homes means you never have to remodel! Just add pops of color when you want to change things up.
Other Spaces
11. Gorgeous with Stone
Elegant Painting's use of Popular Gray for the exterior siding was an inspired choice! It's an incredible complement to the natural colors in this stone.
12. Balanced Anchor
This kitchen from @azradrealtor highlights several warm colors and uses Popular Gray as a way to anchor them all together. Its greige, warm nature allows it to do all that heavy lifting effortlessly to create a cohesive design.
Now that you've seen Sherwin Williams Popular Gray in real-life action, are you ready to order some Samplize paint samples of it? Although it's not a color that will stun in every situation, it's a gorgeous greige that's perfect for many homes. Perhaps your own home may be one of them!
Pin this paint color for later! And if you use this paint shade, leave a comment on the pin! That helps others decide if they want to try this color, too!
Ready to show those boring, beige walls who's the boss at home? Grab my free guide to help you sidestep the mistakes that almost everyone makes when it comes to picking paint! You'll be on your way to perfect paint promptly…pinky swear.