Read all about Sherwin Williams Black Fox, plus see 16 real homes that use it!
Sherwin Williams Black Fox (SW 7020) is a deep and complex neutral paint color that adds chic sophistication to a home.
In my paint series, I've covered many "shades of gray" because, believe it or not, gray paint can be REALLY complex. Subtle differences between hues are exactly why there are SO many options when it comes to gray paints (and the larger pool of neutrals too).
I often highlight light to medium shades because they are the most popular (and I receive the most questions about them).
But every now and then, you want a touch of boldness in life, right? That's where dark shades, like today's Sherwin Williams Black Fox, get to be front and center.
What color is Black Fox?
This color is a deep charcoal gray that's really a blend of black and brown. At first glance, it may appear to be a soft black, but this rich shade is full of nuance.
Black Fox is a surprisingly inviting color that lends an elegant, sophisticated vibe to interior space. Many colors this deep can seem cold, but Black Fox lends timeless warmth to a room.
Since this color is so deep, it reaches its full potential when used in large rooms that have plenty of natural light. In contrast, Black Fox can make a small room feel tight and congested.
FAQs about Sherwin Williams Black Fox

What are Benjamin Moore colors that are similar to Black Fox?

Unfortunately, finding matching colors between brands isn't a piece of cake because paint is surprisingly complex! The color mixing process for paints creates many nuances in depth, temperature, and undertones.

If you want a Benjamin Moore equivalent to Black Fox, I think the closest match would be Benjamin Moore Midsummer Night.


Pin

Is Sherwin Williams's Black Fox warm or cool?

Black Fox is a warm neutral. Although this shade is usually described as charcoal, it has a much richer and warmer feel than a traditional deep gray, thanks to its extremely rich brown undertones. I'd almost call it a dark chocolate color.  

Where can I use Sherwin Williams Black Fox? 

This stunning shade can add sophistication anywhere! As I say that, please take note that it is a deep color. However, if you put a little forethought into where you use it, Black Fox can add that perfect sophisticated or modern touch to any corner of your home, including:

Kitchen islands
Interior doors
Trims
Exterior doors
Laundry room
Living room
Kitchen
Kitchen cabinets
Bedroom
Bathroom
Accent Wall
Theater room
Exteriors

Black Fox is a beautiful neutral shade that is made for modern homes. It will also look stunning in transitional, traditional, contemporary, and farmhouse homes.


Pin
Sherwin Williams Black Fox Undertones
Black Fox has some very rich brown undertones.
In fact, those undertones are so prominent that some people describe this color as a blend of gray and brown. Those brown undertones add a tinge of warmth and an element of softness to this shade so that most of the time, it appears as a soft black.
But you do need to be aware of its tendency to shift in warm lighting!
I have a powerful tool to help you choose paint colors that you'll love with confidence. Paint swatches (I love these peel-and-stick paint samples) can show without a doubt how the paint will appear in your home under the influence of your decor and light exposure. With paint swatches, you won't have any surprising undertones!
Plus, these swatches are super easy to remove and reposition, so you can rest assured that they won't damage your walls. Instead, they will work wonders to prevent paint choice regrets (symptoms include wasted money and feelings of frustration)!
If undertones make your head hurt, you're not alone! Grab your free copy of 5 Biggest Paint Choice Mistakes Click here or enter your email below. I'll send the tips right away!⤵️
How Different Types of Lighting Affect Sherwin Williams's Black Fox
Natural light exposure (and light temperature) shifts throughout the day as the sun moves through the sky.
For this reason, I recommend not expecting ANY paint color to look the same in two different areas or at different times of the day because lighting has such a strong influence on how paint appears.
Here's an idea of how you can expect Black Fox might appear based on different types of natural lighting.
North-facing light – cool, blue-tinted northern light will cause Black Fox to look a little darker and lean into its gray side. It will maintain passive warmth, but those brown undertones will take a backseat.
South-facing light – warm yellow southern light will make this shade appear brighter and warmer. This is my favorite lighting for this shade because you'll see more of those brown undertones.
East-facing light – eastern light is warm and yellow in the morning and cool and blue-tinted in the afternoon. Black Fox will read warm and nuanced in the morning before shifting toward deep gray later in the day.
West-facing light – expect cooler light in the morning and very warm light later in the day. Black Fox will start the day as a deep gray and shift toward those warmer brown undertones as the light becomes ultra-warm.
Great Coordinating Colors for Black Fox
Although it's neutral, Black Fox is a bold and complex shade. It does offer a lot of flexibility, but you won't find it quite as versatile as a shade that's more neutral.
But it's pretty safe to pair it with lighter neutrals!
However, for some individual color ideas, try pairing these shades with Sherwin Williams Black Fox:
Cool Avocado
Caviar
Acier
Ancient Marble
LRV of Sherwin Williams Black Fox (SW 7020)
LRV is an abbreviation for "light reflective value." So what – why does anyone care about LRV? Well, it's an objective way to measure how much light a shade reflects (instead of absorbs). In other words, it's a reliable indicator of how light or dark a shade will appear in your home.
LRV ranges from 0 – 100. A color with an LRV of 0 is pure black. On the opposite end of the spectrum, an LRV of 100 is the brightest white you can imagine.
The LRV of Sherwin Williams Black Fox = 7
This LRV value firmly places SW Black Fox in the dark end of paint colors. Although deep shades like this one can be too much in small or poorly lit spaces, they can add interesting depth in well-lit rooms.
LRV…what? Don't worry, I've got you! Grab a FREE copy of my new guide to avoid the paint color picking mistakes people make! Click here or enter your email below. I'll send the tips right away!⤵️
Black Fox Compared to Other Colors
Let's explore this hue a little deeper by comparing it to some close paint colors so we can highlight the unique qualities of each. This section can be helpful if you're waffling between two similar shades.
Sherwin Williams Black Fox vs. Urbane Bronze
Let's get started by comparing Black Fox to the equally gorgeous Sherwin Williams Urbane Bronze (SW 7048).
Its LRV of 8 makes it just the smallest bit brighter than Black Fox. Although they're both gorgeous, elegant, warm neutrals, Urbane Bronze has some beige undertones that make it read muted and less rich when compared side-by-side to Black Fox.
Sherwin Williams Black Fox vs. Black Magic
Sherwin-Williams Black Magic (SW 6991) has an impressive LRV of 3 (reminder: 0 is pure black!). In addition to being darker, Black Magic lacks the brown undertones and reads as a true black.
Without those brown undertones, it doesn't offer the softness that Black Fox brings to the proverbial table, but it does, instead, add crisp sophistication.
Sherwin Williams Black Fox vs. Iron Ore
Sherwin Williams Iron Ore (SW 7069) has an LRV of 6, which makes it darker than Black Fox.
Although SW Black Fox is often described as "charcoal," its brown undertones can make it appear warmer than a dark charcoal gray. Iron Ore, on the other hand, has almost no undertones, making it truly neutral.
More Colors to Consider
Picking paint can be overwhelming and time-consuming! If you aren't ready to slide a ring on and commit to Black Fox yet, check out these other gorgeous moody shades.
Feeling lost? I gotcha, boo! Grab a FREE copy of my new guide to avoid the paint color picking mistakes people make! Click here or enter your email below. I'll send the tips right away!⤵️
19 Real Life Homes using Sherwin Williams Black Fox
Ok, the information download portion of this post is complete! The background info on Black Fox is important in helping you make an informed choice.
But all those details only take you so far. After a certain point, you need to SEE a color in action – and that's where we are now.
Here are real-life homes and spaces using Sherwin Williams Black Fox for you to see!
Black Fox Bedrooms
Sheen note: Picking the right color is only winning the battle, not the war. Remember to pick the right paint finish, or sheen, also! Read up on what you need to know about picking the perfect paint sheen.
In general for bedrooms, and low-traffic areas, flat paint is fine. If you like something with a bit of shine (and more ease of cleaning) opt for eggshell or satin.
1. Moody and Light
I love this bedroom from Dear Lillie Studio! Using SW Black Fox as the main color for the room creates a cozy atmosphere (just what I want for my bedroom!) and a fun neutral palette to play with!
2. More Brown than Black
Bright warm light will draw those brown undertones out, as you can see in this bedroom from CG Home Interiors.
This shade is a smart choice in this bedroom because it plays well with the dark wood tones on the floor.
Kitchens using SW Black Fox
For kitchens, eggshell or satin are popular finish choices for walls. For cabinets consider semi-gloss or high gloss for the most durable finish (and a gorgeous glow).
3. Interesting Island Idea
People love darker shades of paint on kitchen islands. If you aren't sure about black, and feel like something like navy blue may be too trendy, Black Fox may be a good choice.
In this lovely kitchen from Jenn and Jason Hatchette, you can see that Black Fox gives this island an extremely elegant touch. The perimeter cabinet color here is SW Alabaster.
4. Cozy Cabinet Paint
For a sophisticated-looking kitchen, like this one from The Butterfly Haus, paint the cabinets with a dark, modern shade like SW Black Fox.
5. A Warm Accent Color
I rarely see a kitchen island painted a different color that I don't like. SW Black Fox looks like it was made for this kitchen from Second Chance Charms!
It expertly ties into the countertops while simultaneously fading into the background so that the kitchen feels bright and open.
Sherwin Williams Black Fox Dining Rooms
6. Beautifully Warm Dining Space
There are times when a deep shade can make a room feel tight and even claustrophobic. That's not the case with this dining room from Re-Fabbed!
The warm lighting allows this chic shade to create a cozy, inviting vibe.
7. Modern & Traditional Mix
Neutral colors don't need to be light and bright. Sometimes they're ideal when they make a statement, like in this kitchen from Katherine Forbes.
Black Fox in Bathrooms
Don't forget the finish! For bathrooms the perfect sheen is either an eggshell or satin. Why? We'll tell you in this post about paint sheen.
8. Appears Simply Black
Bold colors can be too much in a small space. However, when they're used in thoughtful ways, as @simplydecoratedhome did in this small bathroom, they can add the perfect gorgeous touch!
9. Appears Basically Brown
In stark contrast to how black this paint shade appeared in the bathroom above, check out how brown it appears in the bathroom below!
10. Rustic and Modern
Romanelli & Hughes Custom Home Builders (via Houzz) presents a very modern spin a traditional farmhouse look by using SW Black Fox.
The shiplap paneling on the walls makes this room feel contemporary and stylish, while the brown undertones give this room a very cozy vibe.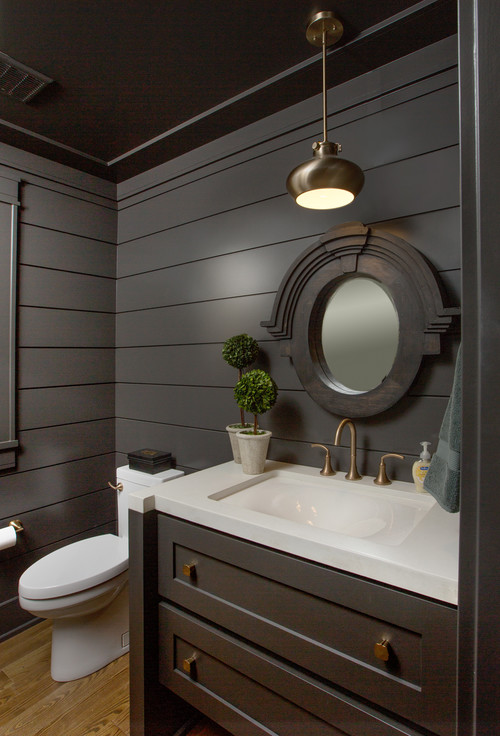 Living Rooms with SW Black Fox
11. Nice Backdrop for Modern Art
One of the benefits of using bold neutrals as the main color in a room is that it works well to provide a beautiful background for colorful decor, as you can see in this room from @dfischerdesign.
12. A Perfect Blend of Brown and Black
This room from Dona Rosen Interiors is so cozy and inviting that it practically envelopes you in a hug as you look at it!
The smart use of colorful accents that tie well into both brown and black creates a very cohesive design.
13. Looks Great on Feature Pieces
Of course, bold shades like Sherwin Williams Black Fox make stunning accent colors. I love this barn door from Heart into Your Home!
Exteriors Painted with Black Fox Paint
14. Warm Brown Siding in the Sun
A typical black would not have been a great choice for this home from Go Willow Homes.
However, the rich blend of brown undertones in SW Black Fox allow it to pair perfectly with the warm-toned bricks and complement the surrounding green landscaping.
15. A Traditional Trim & Brick Pairing
Many people think of using white for trim, but bold colors can be ideal, as you can see on this house from The Sweet Beast Blog.
Black Fox complements the brick color and stands out just enough without being too much.
16. Earthy Exterior Door
Brown signifies grounded-ness, strength and security, dependability and resiliency. All excellent reasons for painting entryway doors this shade. If you want a trendier alternative to traditional black paint colors for your front door, Black Fox may be a great option.
Here's a great example of someone who has painted their own front door with this chocolatey-hue…
Black Fox Interior Doors
17. Just Bold Enough
The strong undertones of this shade lend it a soft quality that makes it a wonderful interior color. It's bold enough for chic decor like this interior door from Honey We're Home, but it's not stark or cold.
18. Fit for Surrounding Brown Tones
Haven Designed made a genius choice to tie the entry door and floor together, and the final result is stunning!
SW Black Fox in Other Spaces
19. Dream Laundry Room
When a room is beautiful, you just want to spend more time in it, right? So I'd LOVE to have a laundry room that beckoned me (seeing as I have no choice but to be in there on the daily).
Molly Fisher Design provides a backdrop to must make this homeowner like laundry day. Wall color in this space is SW Greek Villa.
If you're searching for a bold yet warm shade, Black Fox may be the perfect choice to add an updated, modern look to your home.
Go ahead and grab a peel and stick paint sample of this rich shade to see if it will work in your home!
Pin this paint color for later! And if you use this paint shade, leave a comment on the pin! That helps others decide if they want to try this color, too!
Ready to show those boring, beige walls who's the boss at home? Grab my free guide to help you sidestep the mistakes that almost everyone makes when it comes to picking paint! You'll be on your way to perfect paint promptly…pinky swear.