Read all about Calm by Benjamin Moore, plus see real homes that use it!
I've mentioned before just how popular neutrals are thanks to their ability to play nicely with so many other shades and decor styles. And I'm a huge proponent of including neutrals in any home makeover because they help bring balance or add terrific contrast to the decor. You can't go wrong, either way!
My favorite go-to's are off-whites, grays, and greiges because they have so many different shades that (with enough searching) you're BOUND to find the perfect one for your home. But the downside to having so many options is that it can be TOO much for some people.
To help with this problem, I've been posting detailed color reviews on many of the most popular paint colors. I've also been including some of my favorite versatile colors. They may not always be the most popular shades, so I consider them terrific, yet overlooked, colors.
Today I'm doing a deep dive into an airy off-white that's pretty much everything you love about off-white rolled up into one timeless color: warm, soft, elegant, tranquil, and lovely. Let's say hello to the appropriately named hue, Benjamin Moore Calm (OC-22).
If you're searching for a very soft white paint color (or you could also call it an airy, light, and slightly warm gray), check out the information about Benjamin Moore Calm that I'm sharing below.
FAQs about Calm

What color is Benjamin Moore Calm?

Calm is an elegant and versatile off-white color that often reads as a very light gray. BM Calm is usually included in off-white collections, but since I think it often looks more like a gray, I'm calling it a light gray. It's (in my opinion) an often overlooked neutral that deserves consideration.


Pin

Is Benjamin Moore Calm warm or cool?

Calm is a warm, soft, gray-leaning off-white. It has undertones that keep this color looking warm, although a better description may be "soft" in cool-leaning light.

Where should I use BM Calm? 

Calm is a versatile pale gray that can work well in any room or surface, depending on your lighting situation. It can even look great on cabinets, vanities, and furniture!

Pro tip: Make sure you test it thoroughly before committing to it because it has purple undertones that can appear understated and soft in one room but seem glaring in another.

As long as you check out the color first, consider using Calm in:
Living rooms
Bathrooms
Staircases
Master Bedrooms
Guest rooms
Kids' bedrooms
Kitchens
Laundry rooms
Hallways
And more!

This off-white shade works well in many styles of homes, including minimalist, traditional, transitional, and modern farmhouse-style homes.
Benjamin Moore Calm Undertones
Please don't try to ignore undertones. I realize that burying your head in the sand might seem tempting, but you really can't escape them. Trust me, I've tried!
So, the best way to deal with them is to understand what they are and where they tend to show themselves.
Warm colors have red, orange, or yellow undertones, while cool colors have purple, green, or blue undertones.
BM Calm has subtle purple and brown undertones. Overall, this color reads pale gray or off-white in bright light. However, these warm undertones will peek through in different types of lighting.
I wholeheartedly recommend grabbing a peel and stick paint sample for this color (and all colors on your shortlist) to see how decor, lighting, and other elements impact the way it reads. Calm's undertones may be subtle, but they're there and will present themselves at inconvenient moments unless you're actively working with them.
How Different Types of Lighting Affect BM Calm
As always, lighting situations make a big difference. Here's an idea of how lighting will impact the way Calm reads.
North-facing light – cool northern light will likely wash out the warmth, bringing out Calm's gray base.
South-facing light – warm southern lighting will highlight the warmth of this shade and draw out the purple or brown undertones.
East-facing light – the bright morning light will make Calm read warm in the morning and could pull out those brown undertones, but it will lean gray in the afternoon.
West-facing light – this ultra-warm red-tinged light will help Calm's purple-pink undertones in the afternoon, but the same color will look grayer in the morning.
If undertones make your head hurt, you're not alone! Grab your free copy of 5 Biggest Paint Choice Mistakes Click here or enter your email below. I'll send the tips right away!⤵️
Great Coordinating Colors for OC-22 Calm
What color goes with Calm? What trim color goes with Calm? I get it! If you've decided that Calm is the way you want to go, the next question that comes to mind is what to pair with it.
Thanks to its overall versatility, Calm looks terrific with many other colors. You can easily pair it with clean whites and darker-toned neutrals, blues, and black.
If you're looking for specific color options to pair with Benjamin Moore Calm, check out these shades:
Oxford White
High Reflective White
Steel Wool
Metropolitan
Cliffside Gray
Ozark Shadows
NOTE: Paint colors tend to read differently in various settings. Don't depend on a shade to appear the same on your computer screen as it does in your home!
Utilize paint samples. If you learn nothing else from this post, please understand that because it's worth the effort!  
As far as sampling goes, I highly recommend these mess-free, re-usable, re-positionable peel and stick paint samples ⤵
LRV of Benjamin Moore Calm (OC-22)
Eyeballing paint colors isn't enough because it's too subjective due to the influence of outside forces. For that reason, we need to look at some basic objective information when we evaluate paint colors.
Light Reflectance Value (LRV) is a percentage between 0 and 100 that's assigned to each shade for the purpose of indicating the intensity of that shade. A lower number means the color is more saturated (reflects less light), and a higher number means it's less saturated (reflects more light).
The LRV of BM Calm = 78
Calm sits firmly in the off-white range, so it's darker than white shades but lighter than grays and greiges. Put another way, it has color but will wash out in bright light.
LRV…what? Don't worry, I've got you! Grab a FREE copy of my new guide to avoid the paint color picking mistakes people make! Click here or enter your email below. I'll send the tips right away!⤵️
Calm Compared to Other Colors
I find it so beneficial to compare similar shades side-by-side to gather more information on how they read. This technique is especially helpful when looking for undertones. Here's how BM Calm compares with three similar shades of gray.
Benjamin Moore Calm vs. Classic Gray
Having an LRV of 74.78, BM Classic Gray reads a little darker than Calm. Although both colors have warm tones, Calm is the cooler of the two. Thanks to pronounced greige undertones, Classic Gray reads warm against the cooler purple undertones in Calm.
Benjamin Moore Calm vs. Pale Oak
Benjamin Moore Pale Oak has an LRV of 69.89, making it much darker than Calm. Pale Oak leans more taupe thanks to its strong pink-purple undertones. Calm will appear grayer and cooler than Pale oak.
Benjamin Moore Calm vs. BM White Dove OC-17
Both of these popular shades may be considered off-white, but comparing them side-by-side is an excellent example of just how different shades of off-white can appear. In fact, White Dove's reflectance value sits at 85.38, making this color light enough to be considered white instead of off-white.
In addition, the yellow undertones of Benjamin Moore White Dove are brighter than Calm's purple undertones.
Benjamin Moore Calm vs. BM Paper White
Looking at these two shades side-by-side, you can see that Paper White (OC-55) has a cooler overall tone than Calm. The LRV's are quite similar though, with Paper White being just a smidge darker at 75.89…that's hardly perceptible when looking at the swatches.
Ben Moore Calm vs. Ben Moore Silver Satin
These two shades look quite similar as far as saturation and brightness go. Silver Satin (OC-26) has an LRV of 76.35…right up there on the light and brightness scale with Calm (LRV 78).
Though it's tough to tell from a small swatch, Calm is just a bit warmer than Silver Satin, which heads more toward a true gray, while Calm leans a little more greige.
More Colors to Consider
Do you feel your head spinning as you think about color choices? If you're searching for other white colors, more beige, more gray, or more subtle undertones, check out these other ideas!
Feeling lost? I gotcha, boo! Grab a FREE copy of my new guide to avoid the paint color picking mistakes people make! Click here or enter your email below. I'll send the tips right away!⤵️
Real Life Homes Using Benjamin Moore Calm OC-22
Ok, we've covered all the technical info. Let's shift gears and chat about how this color looks in real homes! Benjamin Moore Calm is a popular shade, and now you'll see for yourself why.
Sheen note: Picking the right color is only winning the battle, not the war. Remember to pick the right paint finish, or sheen, also! Read up on what you need to know about picking the perfect paint sheen.
Bedrooms Painted Calm by Ben Moore
In general for bedrooms, and low-traffic areas, flat paint is fine. If you like something with a bit of shine (and more ease of cleaning) opt for eggshell or satin.
1. Brings Warmth to a Room
Bright light like you see here may wash out the color of Calm, but it still retains its soft warmth. It's enough to keep a large, bright room like this one from Hydrangea Treehouse feeling airy and comforting.
BM Calm in Living Rooms
2. Stands Out with Bright White Trim
This yellow-tinged light draws out the warm greige properties in Calm. This living room is gorgeous!
Benjamin Moore Calm Kitchens
For kitchens, eggshell or satin are popular finish choices for walls. For cabinets consider semi-gloss or high gloss for the most durable finish (and a gorgeous glow).
3. Perfect with Light Wood Tones
I mentioned earlier that Calm has subtle brown undertones that can poke through occasionally. When paired with wood tones in this kitchen from Pinteresting Plans, you can see a wink of brown show up.
4. Creamy in Artificial Lighting
There's a definite difference in how Calm reads in natural light versus artificial light. These cabinets from Funcycled read soft and creamy.
Dining Spaces Painted Calm by Ben Moore
5. Farmhouse-Style White
This dining room shows just how lovely Calm looks in modern farmhouse-style homes.
6. Serene in Natural Light
Want to see how much Calm shifts and shimmies? Look at the difference in how it reads in the light (off-white) versus in the shadow (pale gray) in this room from Pinteresting Plans.
OC-22 Ben Moore Calm in Bathrooms
Don't forget the finish! For bathrooms the perfect sheen is either an eggshell or satin. Why? We'll tell you in this post about paint sheen.
7. Black Accents Contrast Nicely
Bathrooms are one of my favorite places to use Calm. This example shows how it can add that perfect soft element to complement black accent pieces.
8. Spa-like Vibes in Master Bath
Create a light and bright cozy retreat like this one from Houzz by using Calm as your color of choice. Hello, tranquility!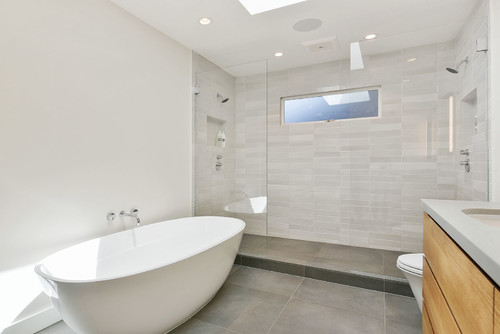 I hope you love Benjamin Moore Calm as much as I do! This warm-leaning off-white Benjamin Moore paint color looks lovely in many rooms, but be aware of its subtle purple undertones as they can show up when you don't want them to.
And if this is a color you're seriously considering, remember paint-sampling is better than ending up paint-sorry! I highly recommend these peel and stick samples because they are inexpensive, re-usable and re-positionable…
Pin this paint color for later! And if you use this paint shade, leave a comment on the pin! That helps others decide if they want to try this color, too!
Ready to show those boring, beige walls who's the boss at home? Grab my free guide to help you sidestep the mistakes that almost everyone makes when it comes to picking paint! You'll be on your way to perfect paint promptly…pinky swear.