Read all about Sherwin Williams Amazing Gray, plus see 13 real homes that use it!
Flexibility. It's a quality that sometimes seems overrated…until you're looking for paint colors. When you have a vague idea in your head of what you want your interior decor to look like, do you envision picking a color that only looks good with one or two other hues?
I don't know about you, but I love picking neutrals when changing up my color palette. They do all the hard work of playing well with other colors, so I don't have to spend hours searching for the one or two colors that look good with my primary color.
While off-white paint colors are my top go-to neutrals, the greige category are a close second. I love their flexibility!
The downside to picking neutrals is that there are SO many options to choose from due to subtle variances in the shades. Do you want purple undertones or green ones? Do you want to avoid pink or blue undertones?
That's the "why" behind publishing these in-depth color review posts. I want to provide you will all the info you need to make informed choices as you select your new color palette.
Today's color study is taking a look at Sherwin Williams Amazing Gray – a mid-toned warm greige that's quickly becoming one of the most popular greiges that Sherwin Williams offers. It happens to sit on the same color strip as Sherwin-Williams Worldly Gray, registering as just one shade darker than this other popular greige.
Without further adieu, let's take a look at SW Amazing Gray (SW 7044) and see if it's an excellent fit for your home.
FAQs about Amazing Gray

Is SW Amazing Gray gray or beige?

Amazing Gray is BOTH gray and beige, or as the paint world likes to call it: greige. In other words, it's really the best of both (neutral) worlds.


Pin

Is Sherwin Williams Amazing Gray warm or cool?

Amazing Gray is a warm-leaning greige. Greiges often are fairly neutral due to the influence of the cooler gray mixed with the warmer beige. Amazing Gray leans slightly warm because of the greater amount of brown and beige influence.

Where should I use SW Amazing Gray? 

Amazing Gray adds subtle sophistication and elegance anywhere you use it. I like to use it as the primary color with white trim for contrast and pops of color added around it.

Due to its color saturation levels, I prefer using Amazing Gray in spacious areas with plenty of light. When it's used in small, low-light areas, it can often read as very dark. So, you probably wouldn't want to use it as a primary shade for the whole house.

As an exterior color, Amazing Gray is a bit of a mixed bag. While it can appear lighter, as a soft gray (or maybe an off-white greige), it's also a color that won't look good with many bricks, stones, and roof tile colors.

Consider Amazing Gray for your:
Bedrooms
Home office
Living room
Bathroom
Kitchen
Laundry room

This shade looks great in many styles of homes, including modern farmhouse, contemporary, and traditional-style homes. 
Sherwin Williams Amazing Gray Undertones
Every paint shade has undertones. Please, for your sake, become familiar with the undertones present in any colors you think you want to use in your home.
Greiges often have noticeable purple, blue, or green undertones. Amazing Gray embraces its green undertones. Most of the time, it reads as a brownish-gray, but those green undertones can peek through from time to time.
If you don't like green undertones, consider another greige such as Sherwin Williams Anew Gray.
So go grab a Amazing Gray SW paint sample and see how this color reads in your home when influenced by your lighting and decor!
As far as sampling goes, I highly recommend these mess-free, re-usable, re-positionable peel and stick paint samples ⤵
If undertones make your head hurt, you're not alone! Grab your free copy of 5 Biggest Paint Choice Mistakes Click here or enter your email below. I'll send the tips right away!⤵️
How Different Types of Lighting Affect SW Amazing Gray
Here's how different lighting situations will tend to impact the way Amazing Gray reads in different rooms.
North-facing light – cool northern light will draw out the cool gray undertones of this color so it will read more gray than beige.
South-facing light – warm southern lighting will pull the warm brown tones forward and make this color read lighter and warmer.
East-facing light – bright yellow morning light will pull Amazing Gray to its warm side, but it will shift toward the cooler gray undertones in the afternoon.
West-facing light – warm western light will bring forward the beige undertones in Amazing Gray, but the cooler morning light will make the shade lean into its gray side.
Great Coordinating Colors for Amazing Gray
I bet the next question on your mind is, "What colors go with Sherwin Williams Amazing Gray?" It's totally understandable because that's what I would be wondering too! Let's cover that now.
Although Amazing Gray is a neutral greige, it can be a little particular about colors it will pair well with because of those green undertones. It will generally do well with darker gray and greige shades as well as light beige, tan, and cream shades.
If you're looking for specific colors to pair with Sherwin Williams Amazing Gray, try these shades:
Shoji White
Carley's Rose
Contented
Porpoise
Let It Rain
Storm Cloud
Snowfall
Whirlpool
Intellectual Gray
Studio Clay
NOTE: Paint colors do not look the same from room to room or from your computer monitor to real life. For that reason, I recommend these non-messy, re-usable, re-positionable peel and stick paint samples to help you avoid choosing a color you'll hate next month! 
LRV of Sherwin Williams Amazing Gray (SW 7044)
Eyeballing paint colors doesn't work reliably because colors can fluctuate wildly based on other influences. Use this basic objective information about Amazing Gray to help evaluate this shade more reliably.
Light Reflectance Value (LRV) is a percentage between 0 and 100. Each paint color has an assigned LRV that indicates the intensity of that shade. A lower number means the color is more saturated (reflects LESS light), and a higher number means it's less saturated (reflects MORE light).
The LRV of SW Amazing Gray = 47
Amazing Gray rests in the lower part of the mid-range. It's just a smidge darker than being right in the middle, which means it will contrast really well with white trim, but it might be too deep to use in a dark room.
LRV…what? Don't worry, I've got you! Grab a FREE copy of my new guide to avoid the paint color picking mistakes people make! Click here or enter your email below. I'll send the tips right away!⤵️
Amazing Gray Compared to Other Colors
Let's see how Amazing Gray looks when compared side-by-side to other colors. This technique works well to help determine the undertones of shades.
Sherwin Williams Amazing Gray vs. Agreeable Gray
Agreeable Gray has that name for a reason – it's so agreeable! These two SW colors may look similar, but SW Agreeable Gray's LRV of 62 makes it read quite a bit brighter than Amazing Gray. Sherwin-Williams Agreeable Gray also has less beige and brown, so it's less warm than SW Amazing Gray. But it's also more versatile.
Sherwin Williams Amazing Gray vs. Anew Gray
Sherwin Williams Anew Gray has an LRV of 47, which puts its saturation level very close to Amazing Gray. In fact, they look very similar to each other! Anew Gray is another popular greige color from Sherwin Williams, but it tends to boast a purple undertone.
Sherwin Williams Amazing Gray vs. Repose Gray
Sherwin Williams Repose Gray appears lighter (LRV of 58) but cooler than Amazing Gray, even though it's also a warm greige. Looking at the two side by side, Repose Gray will appear more like a true gray due to having less brown in it. If you have cool light and are considering both colors, Amazing Gray will warm up the space more.
More Colors to Consider
Are you ready to commit to Amazing Gray, or would you like to explore other options? It can be so hard to choose! Here are some different lovely shades (including other popular gray paint colors) that might strike your fancy.
Feeling lost? I gotcha, boo! Grab a FREE copy of my new guide to avoid the paint color picking mistakes people make! Click here or enter your email below. I'll send the tips right away!⤵️
13 Real Life Homes Using Sherwin Williams Amazing Gray
Ok, we've covered all the basic info you need to know about this color. Let's shift gears and see how this color truly reads in everyday homes!
A quick note here: don't forget to consider picking the right paint finish…it's not only about getting the color right! We have an in-depth explanation of choosing sheens here.
Bedrooms Painted Amazing Gray
1. Highlights Bold Decor
This bedroom from Dimples and Tangles makes excellent use of Amazing Gray to warm up a room with cool-toned decor. Greiges are a great way to add balance.
2. Pairs Well with Neutrals
If you're looking for a lovely medium depth neutral paint, give Amazing Gray a try. It reads as a perfect greige here in this bedroom from Brunch at Saks.
SW Amazing Gray Living Rooms
3. Light Greige in Natural Light
Although this shade has plenty of saturation, it's still light enough that bright light can wash it out, as in this pretty example from @zandcodesigngroup in a room flooded with lots of natural light.
4. Use with White Trim and Moulding
My Georgia House made a beautiful color choice when using Amazing Gray in this room. It contrasts with the white trim and takes a step back to enjoy the view through the windows.
Kitchens in Amazing Gray by Sherwin Williams
For kitchens, eggshell or satin are popular finish choices for walls. For cabinets consider semi-gloss or high gloss for the most durable finish (and a gorgeous glow).
5. Monochromatic Design
Amazing Gray makes a beautiful cabinet color in this example from Paper Moon Painting! The bright artificial light is enough to prevent the shade from looking too dark.
Their article has a great picture of this same space that was professionally edited, and the difference between the two images is pretty interesting. Definitely check it out to see how different the shade can look under different lighting conditions!
6. Definite Greige in the Shadows
I love the use of Amazing Gray in this kitchen from @ourjoyfulfarmhouse to keep the space feeling bright while toning down the amount of white. The warm tones work well to bridge between white and wood tones.
7. True Gray Rustic Kitchen
Are you looking for a great color to use in a rustic space? Try Amazing Gray – it just might be the shade you're dreaming of like in this space from My Georgia House.
SW Amazing Gray Bathrooms
Don't forget the finish! For bathrooms the perfect sheen is either an eggshell or satin. Why? We'll tell you in this post about paint sheen.
8. Chic Master Bath Color Palette
Fridley Custom Homes made a great color choice here when choosing Amazing Gray for the trim and vanity. The bathroom is bright enough to wash the color out into a lovely light greige.
9. Deep Beige in Artificial Light
Remember how I mentioned that Amazing Gray could look pretty deep in rooms with low lighting? Here's a great example from @welcometowhitebear. The bathroom is lovely but much darker than some people would prefer.
Entries and Hallways in Amazing Gray
10. Colorblock Classic
Room for Tuesday did a fun thing here! I love the color blocking. Notice the difference in how the hue reads between the light areas and the shady ceiling.
Sherwin Williams Amazing Gray in Other Rooms and Spaces
11. A Very Beige Gray
I love using the blue cabinets to add some personality to Amazing Gray in this laundry room from KSD and R! (Photo credit: @glennb_photo).
SW 7077 Exteriors
This paint color isn't only for interiors, it's a solid choice for exteriors, too! See it below on both stucco, and siding to see what you think about this shade outside…
12. Amazing Exterior with Amazing Gray
SW Pure White was used for the all-over color on this beautiful exterior update, and is coupled beautifully with SW Amazing Gray on the garage doors and shutters. Pretty powerful paint project, eh?
13. Amazing Gray Siding Superhero
Check out how inviting and classy Amazing Gray looks on the siding here, paired with Aesthetic White (Sherwin Williams) trim. It has just enough color without being overly saturated, and the trim has a little warmth as well that pulls the look together in a cohesive way.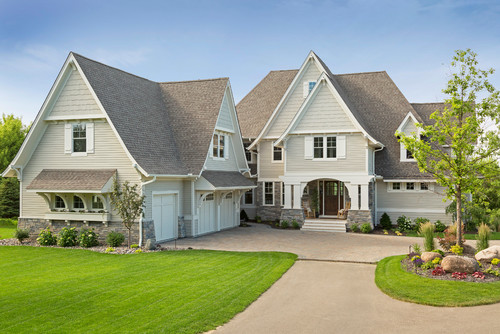 After reading this post, I hope you will love Sherwin Williams Amazing Gray almost as much as I do! Please make sure you check out a paint sample to verify it reads the way you want it to in YOUR home.
Pin this paint color for later! And if you use this paint shade, leave a comment on the pin! That helps others decide if they want to try this color, too!
Ready to show those boring, beige walls who's the boss at home? Grab my free guide to help you sidestep the mistakes that almost everyone makes when it comes to picking paint! You'll be on your way to perfect paint promptly…pinky swear.