Farrow and Ball Pigeon No. 25 is a cozy, calming blue-gray paint color. This soothing and tranquil shade would be beautiful in a study, bedroom, bathroom, living space, and kitchen islands.
When it comes to selecting the right neutral paint color, it's a double-edged sword. On one hand, you (almost) can't go wrong, but on the other, there are so many different shades and undertones to consider. It's enough to make you crazy!
Thankfully, neutrals have a way of calming the noise in the room, and Farrow and Ball Pigeon is proof! This blue-green paint color is beautiful and matches well with various decorating styles and lighting.
This paint color series is meant to be a helpful tool that offers detailed information about the nuances of each shade you're considering so you can arm yourself with knowledge, relax, and take a step back as you look at paint swatches more subjectively.
And today, we're taking a look at Pigeon, No. 25 by Farrow and Ball.
As a sophisticated neutral, this shade is reminiscent of the color of the bird sighted so frequently about the London landscape. It's soft, blue (believe it or not), and contemporary without being too modern. This shade sets the stage for a comfortable, yet elegant atmosphere in any room.
Pigeon, No. 25 also plays well with other colors and textures, but more on that below.
Pigeon Color Introduction (& The Struggle of Gray Paint Colors)
Choosing a paint color really shouldn't be such a struggle. And if you're anything like me, you are likely regretting your new paint project as your eyes glaze over after scanning hundreds of paint swatches… I get it!
There are many different aspects to consider when choosing a paint color: lighting, undertones, other decor colors, and textures…the list goes on!
Here's the skinny on Farrow and Ball Pigeon to help make choosing your next grayish paint color just that much easier. Go ahead and uncross your eyes – you're about to find out everything you need to know!
I'm not gonna lie – choosing the PERFECT paint color isn't as easy as seeing what you like online and simply adding it to your space. There's an entire science behind it! Grab a FREE copy of my new guide to avoid the paint color picking mistakes people make! Click here or enter your email below. I'll send the tips right away!⤵️
Farrow and Ball Pigeon FAQs
Is Farrow and Ball Pigeon green or blue?

Pigeon is a strong blue-gray paint color. The way the light reflects the color largely depends on the size of the room, natural light, and the temperature of the artificial lighting in the room.

In smaller spaces, you may notice the color will appear darker and more blueish green, while a larger, well-lit room will appear to have more of a greenish-gray tint.


Pin
Is Pigeon by Farrow and Ball warm or cool?

Pigeon is a warm color that pairs well with lighter shades of off-white and beige.
Where can Pigeon be used?

Neutrals are multi-purpose and will fit just about anywhere you tell them to. This beautiful shade is not only ideal for wall applications, but also an excellent choice for furniture, cabinets, and even accent pieces.

Consider this popular color for ANY room in your home! It's a great choice for the:

• Kitchen cabinets
• Bedroom
• Bathroom
• Living room/Family room
• Dining room
• Office


Pin
In addition, this shade's versatility makes it a great color for traditional homes, and many other home decor styles as well.
Want the cliff notes for choosing the perfect color every time? Grab a FREE copy of my guide to help you avoid the paint color picking mistakes most people make!
Undertones of Pigeon
If you've ever painted a room, you know what a challenge undertones present! However, there's simply no way to avoid them.
With that in mind, having a solid understanding of how paint undertones are reflected in a room can save you a lot of heartaches and make choosing a paint color more straightforward and efficient.
Farrow and Ball No. 25 is a part of the gray color family, but it also dabbles in the blue and green categories, too.
Therefore, Pigeon has strong green and blue undertones. The green undertones will peek out in well-lit rooms, while darker rooms may appear bluer.
It's important to note that a paint color will not look the same in another room or under varying lighting situations.
That's why it's so important to test your paint color first before fully committing. It's easy to switch out light bulbs for different temperatures, but adjusting for natural light is a completely different story.
Use paint swatches (my personal favorite type? These peel and stick samples!) to help you know EXACTLY how your lighting and nearby decor will impact the appearance of your favorite colors.
If undertones make your head hurt, you're not alone! Grab your free copy of 5 Biggest Paint Choice Mistakes Click here or enter your email below. I'll send the tips right away!⤵️
How Different Types of Lighting Affect Farrow and Ball Pigeon
Various lighting situations play with undertones in many ways (and can cause one paint to look like a totally different color(s) at different times of day). Here's a basic idea of how you can expect Pigeon, No. 25 to read based on natural lighting.
North-facing light – northern light is cool and blue-tinted. This lighting will draw out the blue undertones in Pigeon; however, this darker shade will create a cozy, cocooning feel under north-facing light.
South-facing light – warm light from the south will draw out Pigeon's warmth even more, creating a soft, calming feel to the room.
East-facing light – east-facing rooms have warm yellow light in the morning and cool, passive light in the afternoon. That shifting light will cause Pigeon to show its calming effect in a room in the morning while shifting to a darker, cozier shade as the sun goes down.
West-facing light – west-facing rooms have the opposite lighting situation of east-facing rooms since the light is cool and passive in the morning but very warm in the evening. Pigeon will likely show its bluer undertones in the morning, and the softer shades in the evening.
Great Coordinating Colors for Pigeon, No. 25
If you have wood features in your home, Pigeon may be a perfect complement, while also adding a contemporary feel. This color also plays well with rusty or navy blue shades.
This shade of blue-gray would be beautiful as a way to enhance woodwork like window frames, staircases, and door frames with a neutral shade on the surrounding walls like Benjamin Moore's Decorators White.
Here are some specific colors that play well with Pigeon:
Dimpse by Farrow & Ball
Shaded White by Farrow & Ball
Slipper Satin by Farrow & Ball
Cromarty by Farrow & Ball
Blue Gray by Farrow & Ball
Old White by Farrow & Ball
Salon Drab by Farrow & Ball
LRV of Farrow and Ball Pigeon
This Farrow & Ball paint may be this brand's most versatile paint color. It's certainly a favorite among interior designers. Since 1991, this paint color continues to be among Farrow and Ball's bestselling paint colours and a modern classic.
A big part of the reason for Pigeon's popularity likely has to do with its Light Reflectance Value (LRV). 🙂 The higher the LRV number, the more light is reflected and the brighter a color feels.
The LRV of Pigeon = 35
This means there is some reflective light, but not too much. The saturation level of this shade is high, so if you're looking for dark tones, this is a great paint color to look at.
Pigeon can work well in rooms with low-contrast color schemes to create a relaxing living space that's easy on the eyes.
This shade of blue-green has a massive talent for shifting in the light, reading blue, green, and gray undertones…it can be a chameleon color.
LRV…what? Don't worry, I've got you! Grab a FREE copy of my new guide to avoid the paint color picking mistakes people make! Click here or enter your email below. I'll send the tips right away!⤵️
Pigeon Compared to Other Colors
Neutral is neutral, right? Nope! While many paint colors may look the same, they also likely reflect light differently and have varying undertones – especially when paired with other paint colors.
There are so many differences to consider when choosing a paint color, including the other colors in the room.
Let's compare this Farrow and Ball color to other popular paint neutrals and see how it differs.
Pigeon vs. Sherwin Williams Evergreen Fog
Evergreen Fog by Sherwin Williams has an LRV of 30, which is almost identical to Pigeon with an LRV of 35.
This means these colors reflect almost the same amount of light. Not to mention, these two paint shades are almost identical in color.
Both of these colors are neutral classics! Evergreen Fog is a more pronounced green with slightly more gray undertones than Pigeon.
In my opinion, Pigeon gives a slightly softer, more muted look than Evergreen Fog.
Pigeon vs. Sherwin Williams Comfort Gray
Comfort Gray by Sherwin Williams has a slightly higher LRV of 54. Comfort Gray will reflect more light and appear brighter than Pigeon.
Compared to Pigeon, this shade is lighter and brighter. Comfort Gray presents gentle blue to sage green undertones, while Pigeon shows deeper, and strong green undertones.
Pigeon vs. Sherwin Williams Retreat
Retreat by Sherwin Williams has an LRV of 21. It reflects light slightly less than Farrow and Ball Pigeon, but it still resides in a similar color family.
Both of these shades have heavy green undertones. But while Retreat leans in toward a deep green, Pigeon veers toward a less intense, more neutral and soft green.
Each of these rich shades would be beautiful anywhere you want to add a tranquil ambiance, including bedrooms, bathrooms, cabinets, and kitchens.
More Colors to Consider
I know from experience how tedious choosing new paint colors can be!
If you aren't ready to commit to Pigeon yet, check out these other beautiful shades. 😉
13 Real Homes Using Pigeon Paint
A quick note here: don't forget to consider picking the right paint finish…it's not only about getting the color right! We have an in-depth explanation of choosing sheens here.
Living Rooms
1. Elegant on Interior Walls
This already stunning living room from Chris Loves Julia got a moody, elegant facelift with Farrow & Ball Pigeon. This is proof that a simple coat of paint can completely shift the ambiance of a room.
2. Cosies Up Maximalist Style
Rose George Design used Pigeon to accompany a big, bold, and wallpaper pattern on the fireplace mantel and built-in bookcases. I love how this soft neutral colour really grounds such a striking print! And would you take a look at that chandelier?!
If you're not brave enough to use such a powerful wallpaper design, you can also pair Pigeon, No. 25 with bold patterned pillows, throws, and other accent pieces.
3. Generously Shares the Spotlight
Lots of playful patterns and a soft coat of Pigeon make for a beautiful living space in this UK home with romantic vibes. Plus, it generously took the backseat as the ideal foundation for lively upholstery patterns.
I love how Elle the Home Bird reversed what we saw in the previous home, and allowed the pattern to show through in the furniture, art, and other fixtures in the room.
4. It Runs the Lifestyle Gamut
Parkview House shows us how cozy and comfortable this paint color can be. It's even kid- and dog-friendly!
This living room looks so comfy and is a change from our previous examples. Pigeon isn't just for high-end tastes! It easily bridges the gap between glamourous and family-oriented.
Pigeon in Kitchens
Time to check out Pigeon taking center stage in the heart of some gorgeous homes. It's a Pigeon in the kitchen! Luckily, this type won't make a mess ;).
For kitchens, eggshell or satin are popular finish choices for walls. For cabinets consider semi-gloss or high gloss for the most durable finish (and a gorgeous glow).
5. A Statement Whisperer
In Honor of Design knocked it out of the park by warming up the very heart of their home with Pigeon.
This shade pops away from the stone countertops and backsplash, without screaming at your eyes. This color looks stunning against the stone countertops, antique brass hardware, and white oak accents. (Photo credit: Joseph Bradshaw)
6. It's Bringing Oak Back
How do you like the blend of oak and painted cabinets in this spacious kitchen from BP Kitchens & Interiors (via Houzz)?
Oak cabinets are making a comeback in 2023, and I'm here for it! This once outdated orangey grain is softened with Pigeon, No. 25. Coupled with the off-white walls, this pair pulls out the green undertones in the Pigeon painted cabinets.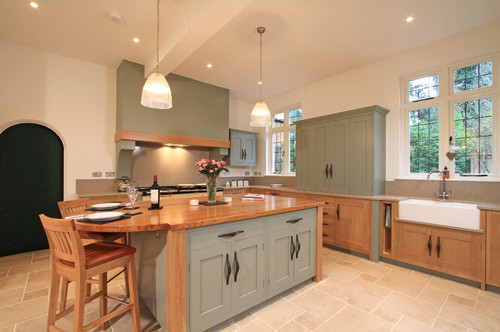 7. Plays Well with Contrast
The way the light hits these Pigeon-painted kitchen cupboards paired with the high contrast of the white walls, plus the oven and countertop, is a recipe for a stunning kitchen! Because of the natural light, Pigeon appears much lighter here.
I never would have thought to pair such contrasting elements in a room, but this was carried off beautifully!
8. The Best of Bespoke!
This is a great example of how this paint color plays well with all shades of hardware. Plus, marble is clearly a beautiful pair with Pigeon.
Pigeon's green undertones are very strong in this space, and it looks more like a cool color here as it's paired with cooler whites rather than warmer whites and other warmer colors.
The wall color here is Farrow & Ball Wevet No. 273 – a cool white with a touch of light gray.
This is a great example of Pigeon showing off a different side!
Farrow & Ball Pigeon in Bedrooms and Bathrooms
Don't forget the finish! For bathrooms the perfect sheen is either an eggshell or satin. Why? We'll tell you in this post about paint sheen.
In general for bedrooms, and low-traffic areas, flat paint is fine. If you like something with a bit of shine (and more ease of cleaning) opt for eggshell or satin.
9. Colour Drenched!
A soft paint color and wallpaper pattern add a little personality to this bedroom from Zoe Olivia to create a peaceful ambiance with style.
Using the "colour drench" technique, she painted the entire wall – baseboard to ceiling in Pigeon, with the most gorgeous accent papered wall.
10. Draws the Eyes Up.
I love the layers of soft pink and bold black throw pillows with the crisp white bed linens against Pigeon-painted walls. No. 25 really draws the eyes upward in this space, creating the illusion of a larger room.
The other (lighter) neutral paint color in this space is Farrow & Ball Ammomite. (Photo credit: Mark Gemmell).
11. Neutral and Moody
If you're attracted to dark, moody bedrooms and spaces but are scared to pull the trigger on a really dark paint color, then Pigeon could be a great compromise.
It's definitely a darker color, but it's still a neutral that can create a peaceful space where you can rest and relax.
12. Dressing for Elegance
Pigeon is looking lovely paired with the warm tones of the natural wood in this dressing room/vanity space.
This creates an elegant vibe to a room that anyone would love to dress in! (Photo credit: Stacy Zarin Goldberg)
13. Softens the Blow
The contrast of the black cabinetry and white sink against Pigeon on the walls certainly helps to create a tranquil space. No. 25 softens the high contrast between the nickel fixtures, brass mirror, and black hardware and cabinets.
So now that you've seen this medium-toned gray used in real spaces, and in many types of light situations…some well-lit areas, and in darker spaces as well, do you think this shade could be the perfect choice for your own home?
And if this is a color you're seriously considering, remember paint-sampling is better than ending up paint-sorry! I highly recommend these peel and stick samples because they are inexpensive, re-usable and re-positionable…
Pin this paint color for later! And if you use this paint shade, leave a comment on the pin! That helps others decide if they want to try this color, too!
Ready to show those boring, beige walls who's the boss at home? Grab my free guide to help you sidestep the mistakes that almost everyone makes when it comes to picking paint! You'll be on your way to perfect paint promptly…pinky swear.